5 Signs That Your Mattress Isn't Working for You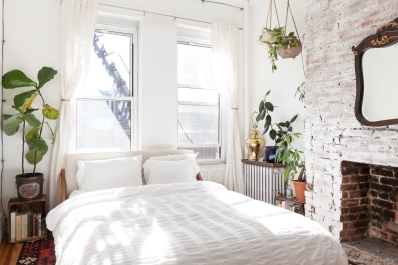 We're not finger waggers here, so we will not start off by telling you you should be getting seven to eight hours of sleep most nights. We will, however, tell you that you need to be getting quality sleep, especially if it's a little harder to get the right quantity. A simple sleep-quality test is if you're getting close to the famous seven to eight hours but you're still tired during the day, then you're likely not getting a good night's sleep.
So how do you know if your mattress is the culprit? We asked the mattress experts at American Signature Furniture what the common sleep gripes are that people have when they come into their stores. These are the top five problems they hear—including a couple we'd have never thought were mattress issues.
Back Pain
It's the #1 complaint when it comes to bad mattresses. Many factors come into play here—sleeping position, body size, personal preferences, etc.—but it's really just a simple question of support. The main point is that your mattress should be firm enough to keep your spine in alignment without creating pressure points. The absolute best way to find a mattress that offers the right level of support is, of course, to try it out IRL. Testing a few different firmness levels side by side will help you learn the difference between soft, medium and firm support.
Sleeping Hot or Cold
Temperature can be one of the hardest factors to get just right. Of course you can adjust the room temp, bed linens, etc., but you'll also want to make sure you choose a mattress that retains the right amount of heat for you. In general, spring mattresses do a good job of keeping cool in any climate and retain the least heat. Memory foam or hybrid mattresses are also a good choice, but choosing one with a breathable top layer is super important.
Waking Up Too Early
If you've changed mattresses recently and find yourself waking up too early or too often in the middle of the night, it could be a sign that you're just not made for each other. It's normal for your body to take time to adjust to a new mattress, especially if you switch types (e.g., spring coil to memory foam) but ideally you should be resting easy within one to two weeks. This is why mattress trial periods exist! Take advantage of them. Any American Signature Furniture mattress or mattress set $999 or higher comes with a 120-night sleep guarantee—so you can literally rest assured that you'll get a better sleep in the long run.
Mattress Types 101
We keep talking about different mattress types. Before we say it again, let's explain what the heck we mean...
Foam: Memory foam distributes weight evenly and comes in a variety of support levels.
Spring: Spring mattresses are made with spring coils and are experts at keeping sleepers cool.
Hybrid: Made with both spring coils and foam, hybrid mattresses offer the bounciness of spring with the support of foam.
Adjustable: An adjustable base can help relieve chronic sleep issues and works with any mattress type.
Sleepy All Day
Even if you're still sleepy despite getting the recommended seven to eight hours of sleep every night, it's possible you're not getting quality sleep. A basic rule of thumb from the National Sleep Foundation says that "quality" sleep means you're actually asleep for at least 85 percent of the time you're in bed. Obviously, a comfortable mattress is the most important factor in making sure that's the case. If you find yourself tossing and turning, take a little time to do some in-person research and test out a few new mattress types. If you've been sleeping on spring coil mattresses your whole life, you may discover that a memory foam or hybrid mattress is way better for you. Or, you may even be surprised that an adjustable base helps you get comfy night after night, especially if you deal with reflux or circulation issues.
Restless Partner Syndrome
If your partner constantly wakes you up at night don't worry, you're not alone! We all sleep differently, so finding a mattress that can accommodate two sleep styles is super important. If your partner is a very "active" sleeper (i.e. you often wake up with his/her foot alarmingly close to your head) look for a memory foam or hybrid mattress that's medium to firm. This will offer the most amount of stability if one sleeper tends to toss and turn all night.
This post is sponsored by American Signature Furniture and was created by the Apartment Therapy Creative Studio.
Thank you for supporting the brands that make Apartment Therapy possible.