Every '90s Kid Will Remember These Totally Rad Home Decor Items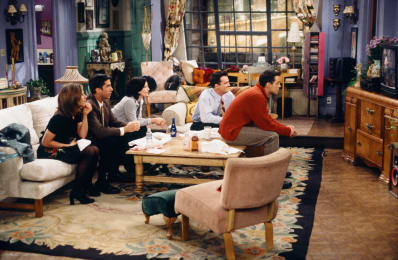 (Image credit: NBC / Getty Images)
Whether you're watching the latest television reboot or liking the latest retro #TBT on your timeline, nostalgia for the '90s is at an all time high. While the pop culture love fest for the decade rages on, let's take a look back at some of the craziest decorating trends that will give any 90s kid a truly rad blast from the past.
See-Through Phones
Maybe the '90s should have been known as the see-through decade. Transparency was totally in when it came to home decor. Long before every kid had their own smart phone, the ultimate luxury was a home phone with colorful gears visible to the naked eye.
Inflatable Furniture
Not practical or comfortable but, undeniably popular, these statement pieces blew up (literally) in the 90s.
Beaded Curtains
Nothing adorned the entrance to a bedroom closet better than strands and strands of multi-colored beads. Whether they were wooden in deep earth tones or plastic pinks and purples, these symphonic curtains livened up many a doorway.
Glow in the Dark Stars
I'd like to see a study done showing the correlation between 90's kids with bunk beds and those who stuck these hard plastic stars all over the ceiling in free-style constellations. I'm pretty sure it would be a nearly 100% match.
Gel Candles
These gooey candles temporarily gave wax a run for its money, but buyers beware: that molten gel was hotter than an *NSYNC album.
Fuzzy Picture Frames
Furry and fluffy picture frames came in all shapes and sizes and finding a picture to fit in a pocket-sized faux fur frame was no small task.
Anne Geddes Pictures
Babies in flower pots. Babies in nutshells. Nobody said the 90s weren't weird. Was I the only preteen who had one of these calendars every year from '95–'99? At least I didn't have the dolls. Terrifying.
Spice Girls Posters
Like bulletin boards, posters are not specific to the 90s, but what better way to celebrate the fab five than with huge girl power posters? Down the hall, my brother was honoring WWE-era Dwayne "The Rock" Johnson in the same fashion.
Butterfly Chairs
Once your inflatable chair popped, you could always turn to your somewhat sturdier, collapsible Butterfly chair.
Furry Pillows
Not to be confused with your run of the mill feather pillows, feathered pillows were a flamboyant finishing touch to tie a totally 90's bedroom together.
Mosquito Net Bed Canopy
Whether you dangled gauzy curtains behind the headboard like Sabrina the Teenage Witch (that's two Teenage Witch mentions, but she was just so 90s!), or went full on princess net, ethereal drapery was a bedroom staple.
Lava Lamps
A throwback within a throwback! In the 90s we were busy feeling sentimental about the '70s and what better way to pay homage to The Me Decade than with a groovy lava lamp?
(Image credit: Courtesy of Colleen Murphy)
Thick Carpet… Everywhere!
By then end of the decade, we came to our senses and ripped it all up, but for a while it was the best way to dump out your Legos in silence. Pictured: my brother and I living our best '90's life on some totally thick carpet. Long live the '90s!
Apartment Therapy supports our readers with carefully chosen product recommendations to improve life at home. You support us through our independently chosen links, many of which earn us a commission.