A Modern and Eclectic Manhattan Remodel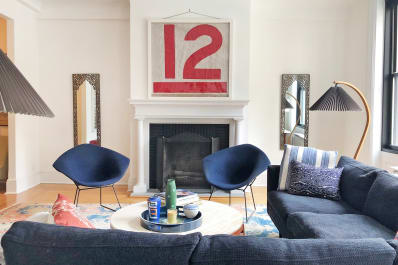 (Image credit: Jan Eliasberg)
Name: Jan Eliasberg, my daughter
Location: Lenox Hill — New York City, N.Y.
Size: 1,200 square feet
Years lived in: 9 months, owned
The "classic six" apartment had great bones, a huge, loft-like living room with southern light and open views of the downtown skyline, but the beauty was obscured by horrible finishes and the worst kind of seventies style: disco wallpaper; a pink formica kitchen; builder's brick red tiles, and imitation marble linoleum flooring. My goal was to complete a gut renovation on an extremely tight budget and a lightning-fast time frame—three months from demo to move in. I had an amazing contractor, but I knew from experience that I needed to source all the finishes, ordering in advance, everything ready to go the minute the contractor needed it. I also knew that I had to be on site every day to troubleshoot, to bring neighbors a nice bottle of wine after a particularly noisy day, and to keep the super and the building management happy.
(Image credit: Jan Eliasberg)
I wanted to preserve and enhance the apartment's pre-war elegance, and was fortunate that my contractor had years of experience working in old Colonial houses, so he cherished all the timeless details. He had a sub who spent days and days scraping thick layers of layers and layers of white paint off all the doorknobs and hinges to reveal solid brass underneath. The wall-to-wall carpet was torn up to reveal original tiger oak wooden floors, which he sanded and polished to a luminous golden sheen.
(Image credit: Jan Eliasberg)
Because of the tight time frame and the budget, I knew we needed to work within the existing plumbing and electrical schemes and couldn't order fancy, custom finishes that would need a lot of lead time. I decided to use this limitation to my advantage and deliberately went with classic white subway tile in the bathrooms and kitchen, gray hex tile in the bathrooms (using large 7 x 8 inch hex to give it a modern twist). I got an incredible deal on large rectangular marble floor tiles, which we set in a herringbone pattern.
(Image credit: Jan Eliasberg)
(Image credit: Jan Eliasberg)
I found sinks and vanities at IKEA. Great design doesn't have to cost a fortune. I love unique, old light fixtures and I spent hours finding and negotiating deals on Chairish, Etsy and eBay: There are Art Deco glass fixtures from Paris in the bedroom; vintage Lightolier pierced metal pendants in the bathroom, and a pair of Jo Hammerborg for Fog and Morup hanging pendant sets over the dining room table.
(Image credit: Jan Eliasberg)
I'm a writer/director and I've collected incredible art in my travels—a carved wooden altar to the Balinese rice goddesses; Indonesian wedding figures; two Bertoia chairs, with the original, pristine fabric; a collection of Rookwood pottery; gigantic art, including my favorite original, canvas subway scroll; and an enormous Warhol-esque number 12 that hangs over the fireplace (no one guesses that it's a framed piece of a giant canvas sail).
My daughter, who's going into her last semester at Wesleyan University, lives with me part-time.
(Image credit: Jan Eliasberg)
Any advice for creating a home you love? Your home should be filled with pieces you love. Pinterest is a terrific place to wander, find spaces that sing to you, color palettes to which you're drawn, textures, fabrics, and combinations that you love. Pin these and you'll have a great starting point. Know your strengths and your limitations: you don't have to do a full renovation yourself, find a designer whose taste you love and work together to refine your own tastea great designer will use her eye, her taste, and her expertise to bring your vision to life. Beware of getting too precious or of spending money for the sake of it—you want to feel truly comfortable in your home, not as if you're walking on eggshells. Money doesn't equal taste. Great design comes at all price points. Mixing vintage pieces with contemporary ones is an excellent way to bring life, history, and stories to your home, lending it layers of depth and warmth.
Thanks, Jan!
• Interested in sharing your home with Apartment Therapy? Contact the editors through our House Tour & House Call Submission Form.