Our Editor Picks From Amazon's Huge, One-Day Games Sale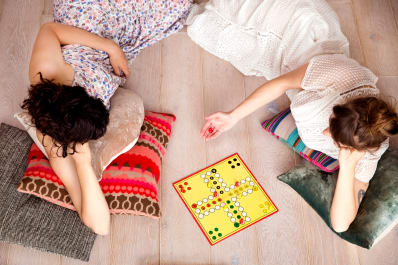 (Image credit: Westend61/Getty Images)
There are two kinds of people in this world: board game lovers, and people who hate to have fun. That's at least how board game aficionados see things. And they'll also explain to the non-believers that there's a whole world of games for adults and kids out there that are not only worth owning, they're worth organizing an entire party around.
And when you're a game night person, you can also never own enough games. Which means that today is a good day for you to add to your stockpile. Today only, Amazon is having a massive board game sale. Not a board game person? Today could be your day to become one—here are our editor picks for best deals from the sale. They also have the added benefit of being great for both beginners just dipping their toes in, to seasoned experts.
One Night Ultimate Werewolf Day Break, $25 $11
A great way for role play game enthusiasts and beginners to get involved, Utimate Werewolf Daybreak is around 10 minutes of game play, meaning people can rotate in and out as they want. It's an expansion of the popular Ultimate Werewolf game, which is also on sale. The two games can be played together or independently.
Trivial Pursuit Master Edition, $40 $25
It's a classic for a reason. If you are still playing an outdated version that makes it harder for younger people to join in, consider upgrading. This version features 3,000 all-new questions that should feel relevant to the second decade of the 21st century.
Carcassonne, $35 $21
Another great pick for beginners, Carcassonne is similar to Settlers of Catan. Unlike Settlers, however, it can accommodate both fewer (as little as two) and more (up to five) players.
Suburbia, $60 $39
If the medieval-inspired fantasy settings of many popular boardgames isn't your thing, try building the city of tomorrow in Suburbia. Designed to be a board game version of computer city simulation games, this is perfect for anyone who loved playing SimCity or Rollercoaster Tycoon on their desktop computer back in the day.
7 Wonders, $50 $28
Or maybe you were more a fan of computer games like Pharaoh and Caesar, once upon a time, in which case 7 Wonders should appeal. It has a steep learning curve, but once you figure it out game play is around 30 minutes, making it another fun fast-paced option for game night.
Apartment Therapy supports our readers with carefully chosen product recommendations to improve life at home. You support us through our independently chosen links, many of which earn us a commission.