This Amazon Shopping Section is the Secret to Scoring Super Stylish Finds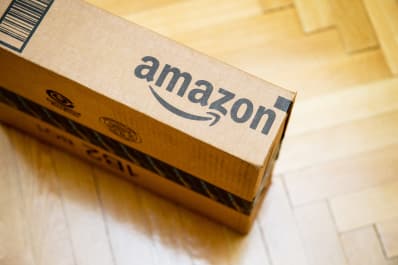 (Image credit: Hadrian/Shutterstock)
If you're the kind of shopper who heads to Amazon with a specific idea in mind of what you're looking for, you're not alone. However, a little known secret to finding interesting, more unique items is actually through a portal shown every time you log on. It's called "Interesting Finds" and is accessed by clicking the "Explore" button at the top of the screen. The suggestions it offers are both functional and fun (and change daily), so get ready for different, surprise items each time you click. More, as you browse you can save items you like into a pinboard of sorts, by tapping the heart icon at the top left corner of the image. We've rounded up some of our hearted items below.
Multicolored Pom Pom Hamper, $44
Perfect for sorting darks and whites in style (while reminding you to do your laundry more frequently thanks to its smaller size), this pom pom hamper is every bit as attractive as it is functional. Purchase several to make a visual impact in your laundry room or stylishly stash on the floor of your closet.
Bye Felicia Doormat, $24.99
The print of this doormat is actually quite beautiful, but the message it sends to any potential houseguests or deliverymen is rather hilarious. If you'd just rather not be bothered, this is the perfect welcome greeting for your doorstep or entryway. It would also make a great housewarming gift for your favorite homebody.
Rose Gold Paper and Foil Striped Straws, $7.99/pack of 50
Whether you're trying to cut down on your plastic straw usage or simply looking for a display-worthy kitchen or party accessory, these chic striped straws hit the nail on the head. Since they're too pretty to hide away in a drawer, try sticking a handful in an empty, clean, glass candleholder for a pretty display—not to mention easy access.
Gingko Cube LED Click Clock Alarm Clock, $37.99
If you can't afford an entire kitchen worth of Carrera marble but are in love with its clean, graphic look, this clock will bring you happiness whenever you glance at it. The marble cube is blank until sound or touch activated, at which point the LED light wakes and indicates the time or temperature. You can also set it to permanently display, if you so desire.
Kate Aspen Tastefully Yours Heart-Shaped Bamboo Cheese Board, $7.95
This diminutive cheese board is the perfect size for the tiny apartment dweller that may be short on space but doesn't want to sacrifice style. The matching spreader is an added bonus, and features a tiny heart etched into the handle. Be sure to hand wash both pieces, though!
Kikkerland Concrete Desktop Planter, $29.25
Trapped in a windowless office when you'd rather be outside enjoying nature? We feel you. Luckily, this concrete desktop planter not only features a spacious compartment to store pens and paper clips, it also serves as a planter to fill with your favorite succulents for a vicarious vacation when you need it the most.
Eames Style Molded Armchairs, $119.98/set of 2
If a mid-century modern look is your vibe, but you don't have a bulging wallet to shell out for the real thing, these chairs will fool even the most diehard décor aficionado. Made from molded plastic polypropylene (just like the original), these chairs come unassembled but can be put together in a matter of minutes.
Portable Bluetooth Speaker, $13.99
The rose gold hue of this portable speaker will complement most décor, while the small size makes it suitable for any room of the house. You can certainly choose to move it around with you, but if not, the range works up to 30 feet. Tiny apartment residents can set it down and forget about it!
Adjustable Plug-in Wall Sconce, $44.99
Love the look of an industrial light fixture but don't have a handy bone in your body? Simple mounting hardware and a plug-in feature make this easy-to-hang arm wall sconce a non-DIYer's dream come true. The black steel and glass construction will finish off any modern room. Just add the bulb of your choice (we're partial to Edison), and voila! Instant chic.
Umbra FishHotel, $22.66
You didn't know your pet goldfish needed this Mondrian-esque modern fish hotel. In additional to being design-forward, this practical glass dwelling is surrounded by a plastic façade that's removable, for ease of cleaning. Last but not least, it's stackable, in case you have more fish to chicly house.
Philippi Mesh Bowl, $35
A fruit bowl, bread basket, centerpiece—you name it: This mesh bowl is undeniably stylish. The sculptural shape is fashioned out of bent and painted steel wire, making it seem airy and weightless.