Archer's Colorful Nursery with Geometric Elements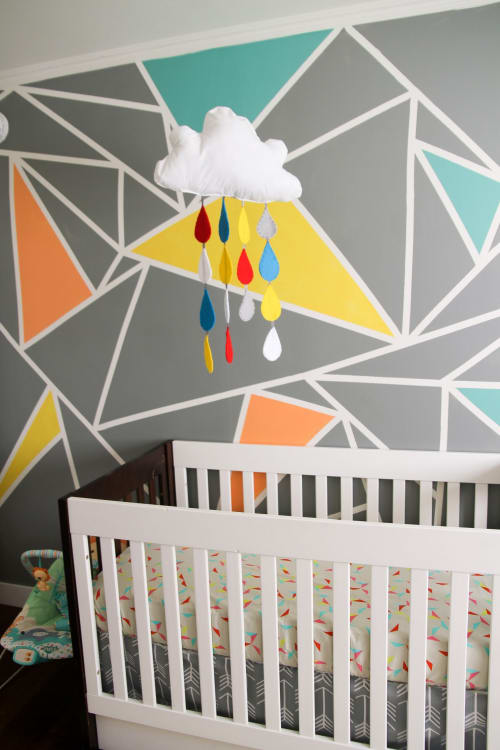 (Image credit: reader Holly)
Name: Archer
Location: Los Angeles, California
We bought our house when I was 8 weeks pregnant with Archer. Since then, we've completed a full gut renovation on the house, including new flooring and walling off a second doorway in Archer's room. While those renovations were being completed, I had lots of time to come up with a plan for this room!
I wanted to incorporate arrows into the room, but I'm not a fan of "themed rooms" so I also incorporated triangles and geometric elements.
The wall behind the crib is the most commented on feature. I used Frog Tape and paints from the oops shelf and samples. I think I spent more on tape than I did on paint! It took about 3 hours to complete and was much easier than I expected it to be. Two thumbs up for Frog Tape!
Sources:
I handmade the curtains, crib skirt, crib sheet, mobile, bunting, banner (Get Up Kids lyrics!) and changing pad cover. The fabrics are mostly from Etsy (the crib sheeet is Tangrams in Eggshell by Rashida Coleman-Hale and the curtains are Wild & Free by Maureen Cracknell for Art Gallery in Fletching Chant).
The crib and changing table are hand me downs from big brother Rhys (Babyletto Mercer).
The book case and chair (Amazon knockoff, but maybe someday we'll have a real one!) were repurposed from other rooms in the house.
The wardrobe is IKEA, updated with arrow door pulls I made from dowels, wood hearts and craft foam.
The side table is an IKEA Bekvam step stool that I painted (with craft acrylics, to get a true neon yellow for the tops).
I made the little sock monkey.
The ottoman (Nake Berkus for Target) and the rug (IKEA PS) were both purchased new for the room.
The toys and books were all big brother's (hooray for a second baby boy!) and the LED star over the changing table (Target) was big brother's as well.
We also used an Ikea picture rail to display some of our Vinylmation collection over the changing table.
The Little Archie comics are all vintage, purchased on eBay. I framed them in IKEA frames and painted out a rectangle behind them to immitate the look of one big piece.
I'm thrilled with how this room came out. I really cobbled things together and handmade as much as possible, but I think it all works in the end!
Thanks, Holly!