Design Is For Babies: A Q&A With Julie Merberg, Author of Baby's First Eames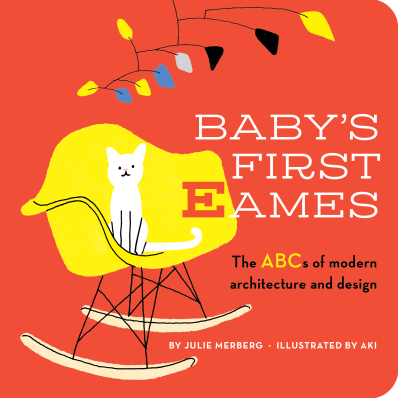 (Image credit: Courtesy Downtown Bookworks; Illustrations by Aki)
Babies don't know much about design. Every time I've tried to delve into the finer points of Eliel versus Eero Saarinen with the under-one crowd, they just stare at me blankly (and occasionally drool). Thankfully, Julie Merberg has a new book coming out May 8 called Baby's First Eames (Downtown Bookworks), and I am thrilled that finally, newborns and I will have something to talk (rather, screech and coo) about.
(Image credit: Courtesy Downtown Bookworks; Illustrations by Aki)
Apartment Therapy: What made you decide to write a design book for babies?
Julie Merberg: As a publisher and as a children's book author, I've created a lot of board books with grown-up/kid appeal such as our Art from the Start series and our DC superhero concept books. Since babies and toddlers tend to want to have the same books read to them over and over, I think it's important for parents to enjoy the experience too. Architecture and design became the focus of this most recent book because I renovated my apartment last year and realized my kids took a very keen interest in every purchase and decision. My third son has always been fascinated by architecture, and my youngest was glued over my shoulder every time I scrolled through Chairish. Wearing my publishing hat, I also figured that all of the parents who were outfitting their nurseries from Oeuf and DwellStudio would get a big kick out of Baby's First Eames.
AT: Was there a letter that was hard to narrow down? Hard to come up with?
JM: I had an abundance of options for M and W, so I wound up breaking style with those letters to accommodate more examples. And XYZ is pretty much the bane of every alphabet book, but luckily I spotted X and Y shapes in Zaha Hadid's Port House window frames.
(Image credit: Courtesy Downtown Bookworks; Illustrations by Aki)
AT: Do you have a favorite illustration in the book?
JM: So hard to choose—Aki (the illustrator) is so talented. But "F is for FRANK" is a pretty stellar spread.
AT: In your opinion, is it important to introduce children to design early?
JM: I think it's important to recognize that children are taking in everything they see. I live in New York City, and though my children have aged out of strollers (my youngest is now 9), for so many years I was pushing them around and we would talk about interesting buildings or street art or great views… Going for a walk would be an activity for us. And it's such a nice, easy way to engage with kids, and to get them into the habit of being keen observers. I want to weep when I see kids playing with iPads in their strollers.
AT: Do you have any favorite design related books for children other than your own?
JM: I love Iggy Peck, Architect. And Princeton Architectural Press publishes two beautiful books: Who Built That? Modern Houses and Who Built That? Skyscrapers.
(Image credit: Courtesy Downtown Bookworks; Illustrations by Aki)
AT: My coworkers who are parents are asking about the "chewing durability" of the book. Can you attest to its saliva resistance?
JM: It's a solid little board book so it can definitely take a licking (or a chewing). But you might want to buy two copies—one for the shelf (it is SO pretty!) and one for manhandling.
Thanks, Julie! You can preorder Baby's First Eames on Amazon.
Apartment Therapy supports our readers with carefully chosen product recommendations to improve life at home. You support us through our independently chosen links, many of which earn us a commission.