10 Architects You Should be Following on Instagram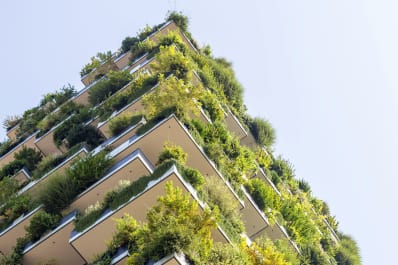 (Image credit: tostphoto/Shutterstock)
There's no shortage of awesome architects to follow on Instagram. The hashtag #architectureporn alone produces more than 5 million posts, many of which come straight from the hands of innovative architects across the globe.
And if you're anything like us, you depend on daydream-inducing Instagram posts to help get you through the day. So to ensure that your feed is always filled with design inspo, we rounded up ten awe-inspiring architects to follow on IG. Read ahead for a few of the coolest architectural accounts on the 'gram.
Jacques Herzog & Pierre de Meuron — @herzogdemeuron
If you weren't already hip to Swiss architects Jacques Herzog and Pierre de Meuron, now's the time to smarten up. Adored internationally for their modernist designs and innovative use of eco-friendly materials, the pair's IG account is an ode to their past and present projects, including the Tate Modern in London and the Elbe Philharmonic Hall in Hamburg, Germany.
Beloved for her ability to create warm but modern spaces, Deborah Berke is a New York City-based architect that's more than worth a follow. Overflowing with sketches and inspo images of her minimalist-style spaces, Berke's IG feed is the stuff our design dreams are made of.
Nature lovers rejoice: Todd Saunders and his landscape-inspired architectural work is officially on the 'gram! Come for the sweeping mountain views but follow for the snaps of modern cabins nestled amongst nature.
Amelia Tavella — @amelia_tavella
Searching for an editorial-style architect to follow on IG? Look no further than French architect Amelia Tavella's account, which is brimming with magazine-worthy photographs of her clean designs and neutral palettes.
With his keen eye for jagged edges, sharp angles, and avant-garde architecture, Daniel Libeskind's work (and Instagram feed) manages to feel both historically influenced and distinctly modern at the same time. Take for instance one of his most popular projects, the zigzag-shaped additions to the Jewish Museum in Berlin, which brings his geometric sensibility to the old Baroque-style building.
Known for forging sustainable structures composed of environmentally-savvy materials, Jeanne Gang's work is truly the future of urban architecture. Follow her Instagram account if you're a fan of experimental large-scale buildings, especially ones with an eco-conscious ethos.
Ideal for architecture lovers and minimalists alike, Belgian architect Vincent Van Duysen's Instagram account reads more like a photo diary—filled with daily snaps of his own work and inspo images of similar muted palettes.
Arguably one of the most influential design firms in the world, Skidmore, Owings, & Merrill are masters of urban planning and modern architecture. Their IG account is outfitted accordingly; complete with throwback pics of old projects—the John Hancock Center in Chicago, anyone?—as well as their state-of-the art "glass box" skyscrapers.
Known internationally for his minimalist approach to modern architecture, Canadian architect Omar Ghandi specializes in simple spaces with luxurious finishes. His IG account is curated accordingly, filled with snaps of his striking structures and tactile designs (usually set in nature).
Johan Tägtström — @johfot
For a more comprehensive look at architecture both old and new, do yourself a favor and follow photographer Johan Tägtström. The esteemed photographer has an eye for unique shapes and forms that span all styles of architecture, and also happens to be a pretty decent designer, too.