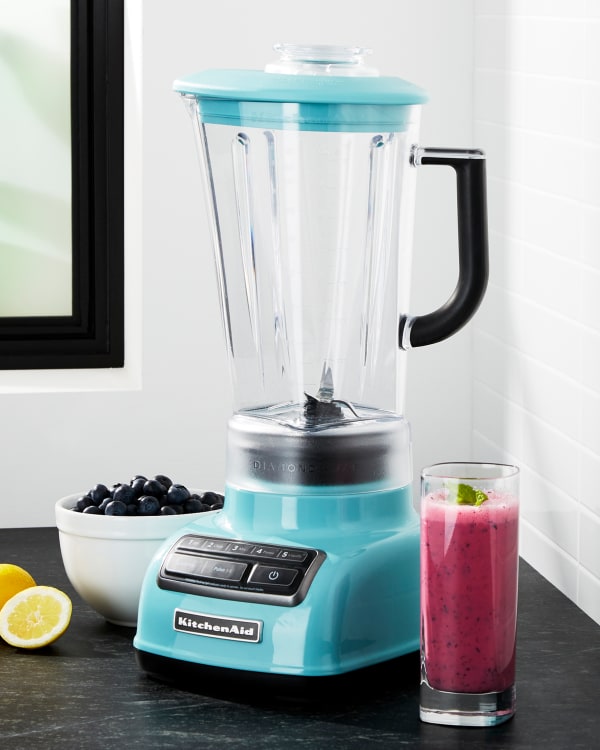 (Image credit: Courtesy of Crate & Barrell)
Blenders are a way of life over here at Apartment Therapy and Kitchn. These kitchen staples have come a long way over the past fifty years, and they are now not only useful but beautiful enough to keep out on your counter. And we recommend that you have one that fits right into your kitchen. While they're most well-known for creating delicious smoothies, these powerhouses can be used to make a variety of other foods—fun cocktails included. We rounded up our favorites from every price point, so you can get blending without the worry.
How This Works
Every week we research new product categories and bring our final picks into the office, where we haggle and decide which ones make the final list. Everything is based on quality, appearance and price. These are what we could choose for our own home.
---
For me, if you have one blender it has to crush ice. It has to not wimp out when pureeing frozen fruit, too. And then it has to do all the other regular things like puree for soup, be easy to clean, and not take up too much space on the counter. Oh, and if I'm going to drop some cash, it has to look good when I regularly fail to put it away. Luckily, I had some very good choices to choose from (see below).
My favorite right now is an old standard brand, KitchenAid, and their mid-range Diamond series. It's got all the controls you need (5 speeds), a super durable and attractive design, generous carafe and over 700 watts of power. It's just right.
---
Our Best Blender Posts:
---
LOW
From budget-friendly Hamilton Beach, the Wave Crusher boasts 700 watts of power and a system that pushes blender contents down into the blades instead of up the sides. With 14 blending functions and an unbeatable price, the Wave Crusher seriously gives some more high-end contenders a run for their money.
---
A cult favorite, the NutriBullet is small but mighty. With a 600-watt motor, it's comparable in power to much larger blenders without taking up valuable counter space, and is perfect for single-serve smoothies. The NutriBullet also comes with a variety of attachments, so the recipe options are pretty endless.
---
Another inexpensive pick, the Oster Heritage has 600 watts of power and, according to reviewers, a highly durable motor. With two speeds and an attractive retro look, this blender is a throwback to simpler times—without sacrificing quality.
---
An office favorite, the Ninja is a straight-forward and powerful option at a decent price. It blends at 1,000 watts, has three speeds and a pulse setting—plus just looks and feels really sturdy.
---
MEDIUM
Another pick from Hamilton Beach, this blender is ultra powerful at 1500 watts, yet boasts a significantly quieter motor. But let's talk about that speed again for a minute—1500 watts is the equivalent of 2.0 peak horse power! That kind of power is more common in much more expensive blenders, making this a real steal at under $125.
---
The Oster Versa Pro may not be the sleekest option on the list, but it's certainly one of the most powerful. It runs at 1400 watts, and has three pre-programmed settings with speed adjustments available. People LOVE this blender for how effective it is at blending just about everything, from ice to unpeeled oranges, all at a pretty reasonable price for what you're getting.
---
The Cleanblend is almost too powerful at 1800 watts, but that's kind of the point. This blender will actually pulverize your food, and if you wish to crush it even more, you can do so with the included tamper wand. I have a feeling this blender provides great stress relief—just imagine your worries are being crushed by the 3 horsepower motor.
---
HIGH
Just like all the products from Smeg, this appliance will actually look pretty sitting on your counter. It blends at 600 watts, has four speeds and three presets, and simply has the most style of all the blenders on the list. Plus, there are several different color options besides standard black!
---
Another office favorite, the Breville Boss is quite the workhorse. It's got 1500 watts of power, and claims to blend up to 50% finer than traditional blenders. The timer is a nice touch, allowing you to step away (but not too far) and do something else while the Boss does its work.
---
After polling this Vitamix-obsessed office, the Vitamix 5200 model came out on top. This is the standard starter blender of the beloved Vitamix brand, with 1500-watt power and straight-forward controls. While the price is certainly on the very high end, those who I polled said that this blender changed their lives and they could never go back to anything else.
---
Extra hot liquids. Doing so will result in more steam and extra pressure in your blender, which could lead to a major disaster (think hot soup-y contents everywhere).
Mashed potatoes. Apparently there's such a thing as potatoes being too mashed. The blades of a blender can overwork your potatoes, allowing too much starch to be released and resulting in potatoes that are more gummy than fluffy.
Coffee beans. This may seem like a nice alternative to buying a coffee grinder, but in reality you'll be left with inconsistently-sized granules that could affect your coffee's flavor. Plus, the beans can wear down your blender's blades over time.
---
Other Good Resources:
Apartment Therapy supports our readers with carefully chosen product recommendations to improve life at home. You support us through our independently chosen links, many of which earn us a commission.