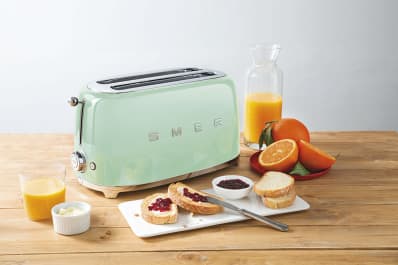 (Image credit: Courtesy of Smeg)
Toasters don't have to be pretty to get the job done. But imagine how much more you'd like your countertop space if your toaster added to the decor rather than the clutter? Of course, there's more to the appliance than looks — truly, it's what's on the inside that counts. Can it toast evenly? Is it easy to clean? How much guesswork is involved in getting the shade just right? When that's wrong, then it doesn't matter how attractive your toaster is — you just want your toast. We've rounded up our favorite toasters that strike that balance between good design and function, so you can have your toast and eat it too.
How This Works
Every week we research new product categories and bring our final picks into the office, where we haggle and decide which ones make the final list. Everything is based on quality, appearance and price. These are what we could choose for our own home.
---
Maxwell's Top Pick
Here at Apartment Therapy, I've been finding that the products that really crush it with our staff and readers are those that a. are absolute necessities at home, b. are highly visible and c. express a strong sense of personal style. Toasters hit all of these notes and I sort of knew, even before testing, that the Smeg would be a winner. Following up on their super popular refrigerators, the Smeg Toaster is a much more affordable home appliance that you can use every morning and look at all day long. A good toaster should be simple to operate and this one is.
Smeg is an Italian company founded by Vittorio Bertazzoni in 1948 (it is still owned by the family). They have been super trendy since introducing their retro inspired, 1950's style refrigerators that come with rounded corners and in a number of eye popping colors. Their toaster is the same, is heavy and satisfying in its construction and comes in nine colors.
---
Our Best Toaster Posts:
---
LOW
This ultra compact Cuisinart toaster lacks the bells and whistles of other, more expensive options, but it's great if all you want is a straightforward toaster that won't put a significant dent in your wallet.
---
Another inexpensive standard toaster, this pick from Oster is actually kind of cute (as far as toasters go). With seven shade options, four settings and extra-wide slots, this toaster is a step above your basic toaster without going over budget.
---
Our top pick on the budget end, the Bestek 2-Slice is a good-looking, contemporary toaster that gives you that pop of color without being overwhelming. With LED display and a high lift lever, the Bestek is particularly user-friendly.
---
Similar to the Bestek, this pick from KRUPS has a modern stainless steel finish and LED display.
---
MEDIUM
Frustrated with your toast not being exactly right? Check out this simple but smart solution from Cuisinart, which lets you keep an eye on your bread's progress as it's toasting.
---
This classy toaster is inspired by 1950s Italian design, adding some style to an appliance that is better known for function than form. Aside from good looks, this toaster offers three heating options and six shading settings.
---
Our top pick in the medium category, this retro toaster is further proof that vintage is in when it comes to toasters. Aside from the sleek red color, the best part of this toaster might be the removable heating rack — ideal for when you just need a little heat without the full-on toasting.
---
HIGH
This "smart" toaster boasts 1-touch automation, with settings like "A Bit More" and "Lift and Look" to guarantee perfect toasting. There's also an LED toasting progress indicator to make the wait a little easier.
---
Straight from the UK, the Dualit toaster is super compact and comes in 21 colors and finishes. Originally designed in 1946, it hasn't changed much stylistically since and has won several design awards through the years.
---
For a truly luxurious toaster, you can't do better than the KitchenAid Pro Line. Durable, beautiful and functional, this toaster has four toasting functions and seven shade settings. Even better — it has an automatic keep warm function that turns on when your toast isn't removed after 45 seconds. It's the little things, right?
---
Tips for Buying a Toaster
Toaster or toaster oven? The eternal question. Toasters are typically more compact, but can only toast bread, while toaster ovens take a bit more room but can toast anything from bagels to pizza to leftovers (because you know fries don't taste the same once they're zapped in the microwave).
How much are you toasting? If it's just you and a roommate in a small space, then a 2-slice toaster is the way to go. But if you're toasting for a family (or like to toast a lot at once), then a 4-slice option is probably a better bet.
Do you want some upgrades? Most toasters on the market today come with a couple settings, a pull-out crumb tray and wider slots. That's good enough for some people, but if you are especially particular about how your bread is toasted, or if you want extra safety features, then investing in a more expensive but upgraded option is something to consider.
---
Other Good Resources:
Apartment Therapy supports our readers with carefully chosen product recommendations to improve life at home. You support us through our independently chosen links, many of which earn us a commission.