The Best Water Filter Pitchers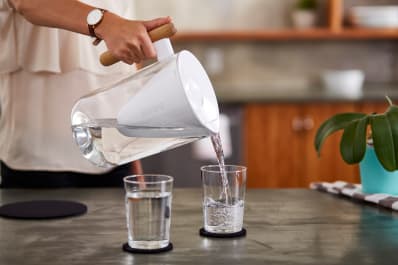 (Image credit: Courtesy of Soma)
Clean drinking water is an essential part of a healthy home, and more importantly a healthy life. In-home filter systems are one way to ensure pure water, but these can be difficult to install if you're a renter, or just don't want to go to the trouble of putting in a whole purification system. Water pitchers and dispensers are simple, compact and portable, giving you an immediate solution to questionable water quality. We rounded up our favorites from every price point and size so you can get better-tasting, less contaminated water quickly and easily.
How This Works
Every week we research new product categories and bring our final picks into the office, where we haggle and decide which ones make the final list. Everything is based on quality, appearance and price. These are what we could choose for our own home.
I first heard about Soma three years ago, when a friend had just started doing PR for the company, which was in startup phase. I thought it was an impossible task to unseat Brita and PUR and gain a foothold in a crowded market where pitchers didn't cost a lot of money (and people liked that).
Cut to 2018, Soma has become not just my favorite but an all-office favorite because it does what the others do, looks BEAUTIFUL doing it and if fully committed to sustainability, which makes sense when you consider that we're purifying our water because it needs it. And then, for the finale, Soma crushes it because it does all that at a price right next to the competition.
---
Our Best Water Purifying Posts:
---
LOW
This little pitcher from Nakii gets props for its shape — more angled than rounded, so it fits easily in small spaces, including refrigerator doors. It's inexpensive, but it works hard, filtering water at a much faster pace than other pitchers we tried on this list. Nakii filters use activated carbon fibers to remove up to 97% of contaminants.
---
If you're short on space and live in a small household, this little Brita is a great option. The Metro has 5-cup capacity, with an electronic filter indicator, locking lid and BPA-free plastic. Full disclosure: I have the Metro in my fridge, and have no complaints. It's a great size at an even greater price — plus I love the color!
---
On the other hand, if you have several people in your household and room to spare, the PUR Dispenser is the way to go. Not exactly a pitcher, this dispenser can fit in your fridge or on your counter, and can hold a whopping 18 cups of water. The filter itself removes 96% of mercury and 95% of industrial contaminants, and is certified to reduce microbial cysts.
---
MEDIUM
This pitcher doesn't just filter your water — it makes it alkaline. Alkaline water has a higher pH, and believers say it can help to neutralize the acid in your body. There isn't enough scientific evidence to claim this as fact yet, but some acid reflux sufferers do say that alkaline water eases their symptoms.
---
Especially popular in Europe, this pitcher uses magnesium to both filter and mineralize the water. It particularly focuses on getting rid of limescale deposits that can erode household appliances, and is actually fairly compact despite its slightly larger size. Plus: lots of great color options!
---
For a more high-end look, check out this stainless steel pitcher from Brita. It's fingerprint resistant, has 8-cup capacity and an electronic filter indicator to let you know when it's time to replace. We also noticed during testing that the stainless steel actually made the water stay cold for longer when taken out of the fridge — great for dinner parties when you need to keep refilling cups!
---
HIGH
Made of glass, the Dafi Crystal pitcher is a stylish, ergonomic option that comes with a variety of filter options. We tested the Alkaline Up, which turns water alkaline, but you can also choose from standard, anti-lime and mineral-enriching filters.
---
If a traditional pitcher just won't cut it, check out this option from the experts at Big Berkey. The Royal Berkey is ideal for 2-6 people, holds up to 3.25 gallons and is easily portable. As far as performance goes, you can't beat a Big Berkey. It reduces or removes a long list of contaminants, and can also filter raw untreated water from the environment, making it ideal for emergency situations when water supplies are compromised.
---
Beautifully designed and durable, Maxwell uses this dispenser at home. It holds up to 2.9 gallons and can also be used as a dispenser for other beverages besides water (just remember to remove the filter). Not only is it attractive enough to leave out on your counter, but the filter replicates the natural underground water filtration process, and uses quartz crystals and carbon to remove chemicals and organic pollutants.
---
Tips for Getting Started with Water Filtration
Figure out how clean your tap water is. Check your municipality's mandatory Consumer Confidence Reports, an annual water quality summary that's released each year by July 1st.
Grab a test kit. Even if your water quality is good, your pipes could still be a problem. Places like Amazon and Home Depot sell kits so you can find out about your specific water — a good option if your pipes are older.
Do your research! To learn more about the filters you're considering, check out NSF International, a trusted organization that sets the standards for determining water quality.
---
Other Good Resources:
Apartment Therapy supports our readers with carefully chosen product recommendations to improve life at home. You support us through our independently chosen links, many of which earn us a commission.