Blake Lively Is Her Friend Group's Go-To Interior Designer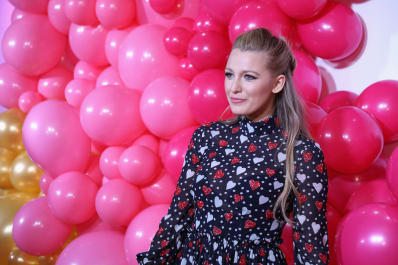 (Image credit: Anna Webber/Stringer/Getty Images)
There are many things I'd do for a lifetime at no cost — perhaps write poetry or travel the world. For Gossip Girls actress Blake Lively, that 'thing' is interior design.
In a photo posted to Instagram, the mom of two (and former lifestyle brand creator) revealed that she's the designated interior designer within her circle of friends, and by the looks of it, she takes her role very seriously.
The photo contained all of the ingredients for a good home design project: mood board, fabric swatches, sketches, and patterns. Lively wrote, "I design my friends homes. For free. Of all the bad decisions I've made, this may be the most fun."
She continued, thanking her baby girls for loaning their clothes, and, even her bathroom floor for that one loose tile, "Thank you to my daughters for unknowingly loaning me your clothes for 'fabric' inspo. Thank you @dmitriyco for the stencils that are way too fun it's not normal, thank you bathroom for having a loose tile that I could steal for more 'fabric' inspo, and thank you mom for the sleeping disorder that keeps me up all night."
Lively's design interests don't end at home. While interviewing Gigi Hadid for Harper's Bazaar May issue, the two gushed over their shared love for wedding design. "I'm always looking for new opportunities. My manager regularly asks, 'Hey, any new, weird ideas for this month?' And then I start talking about how I could design a wedding," said Hadid, to which Lively responded, "My God, don't start without me. I want to design weddings."
With this much passion for the craft, I think Lively may have stumbled upon her career after acting.