This Coffee Table Is Made of 10,480 LEGO Bricks and Costs $9,000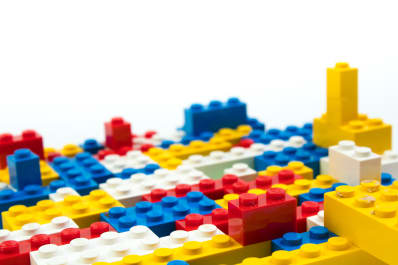 (Image credit: Lana U/Shutterstock)
LEGOs aren't just for the kiddos. If you miss those colorful building blocks of your childhood, you'll love this DIY coffee table from California-based art director Yusong Zhang. It took him three weeks to make and over 10,000 brick pieces. But what's perhaps most surprising is how modern and sophisticated it looks in his living room.
The table, made of four concentric layers, is made up of exactly 10,480 pieces. From one angle, it looks like a plain white block, but turn it to the side and you see three more inset layers— each a different color—almost like a modern, rectangular geode. It measures 15" (height) by 31.50" (length) by 12.5" (depth) and was assembled without glue, screws or other tools, aside from Yusong's two very sore thumbs. It's strong though, so stacks of books or resting feet aren't a problem.
Here's what he had to say about the project:
I always had love for LEGO as a toy, but wanted to challenge myself to build something truly functional without sacrificing the esthetic and creativity that's rooted in LEGO designs.
Although the LEGOs that Zhang originally used were left over from a work project, you can buy individual replacement bricks from the LEGO website if you want to make your own version. A single 2"x4" brick costs 24 cents, so you can do the math. (Okay, if you don't want to do the math, we'll do it for you: 24 cents X 10,480 = $2515.)
If you want to skip the tedium, time, and toy parts involved, Zhang's DIY is now a product available for sale. You can head over to The Artling, which sells the tables for $8,999. He'll even make a custom sizes. Order early though, because it takes three months to ship out.