6 Ways You Can Donate Your Leftover Halloween Candy to a Good Cause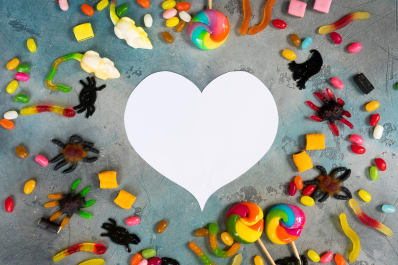 (Image credit: Neirfy/Shutterstock)
Having plenty of Halloween candy to pass out—and then some—is not optional. Which sparkly princess or toddling robot with an upturned, hopeful face and proffered bucket could you tell "Sorry, we ran out of treats"? Not happening. And then there's the kids coming home with their hauls from which they'll pick a designated ration of their favorites (plus your tithe) and all that leftover candy. Sometimes there's way too much of a good thing.
While you could technically keep the extra candy for passing out next year, it won't be as fresh. And even if you keep it in the freezer, it's probably not the best use of storage space. Instead, check out these feel-good ways to get your leftover (pre-packaged, unopened) Halloween candy out of the house and into the hands of people whose days could be made sweeter:
1. Treats for Troops
Run by Soldiers' Angels, Treats for Troops collects Halloween candy to re-distribute to soldiers overseas, wounded service men, and veterans. Kids can earn non-candy prizes for donations. Check to see if your dentist's office has registered as a collection center, or you can search by zip code for another collection center near you.
2. Halloween Candy Buy Back
Any local business, including but not limited to dental offices, can register for Halloween Candy Buy Back. Candy is donated in exchange for cash, coupons, local services, goods, etc. and sent to veterans' organizations. (Pssst. If you own a business, registering is a great way to serve your community and advertise your company.)
3. Operation Gratitude
Operation Gratitude sends care packages to troops and includes a handful of candy in each box they send. Post-Halloween is an ideal donation/collection time. Search by zip code for donation centers near you.
4. Any Soldier
Any Soldier is different from the other donation drives that send Halloween candy to troops because it allows you to select specific branches of the military. You send the package yourself to an address you request, so the donation feels much more personal. Including a letter, which the site encourages, is another way to make your gift meaningful.
5. Ronald McDonald House
Ronald McDonald House serves sick children and their families, including providing food and snacks for them, and will happily take candy donations, as long as the candy is commercially-made, pre-packaged, and unopened. Contact your local chapter to find out about donating leftover Halloween candy.
6. Local Centers Near You
If you prefer to keep your donations local, you could also contact your local food banks, first responders' offices, nursing homes, or shelters. I bet a big ol' basket of candy would leave a smile on their faces until Thanksgiving.