One Easy Thing You Can Do This Weekend to Make the Rest of the Year a Breeze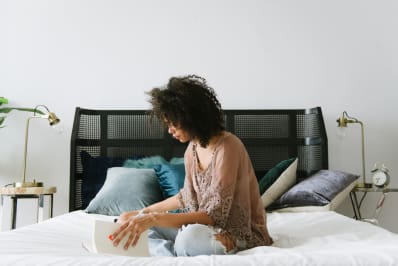 (Image credit: Lauren Naefe/Stocksy)
For 10 days at the end of October, Apartment Therapy wants to help you get ahead on the holidays. Together, we're checking off doable daily tasks to get one step closer to the effortless holiday season you deserve. Sign up now (it's free!) so you don't miss a thing.
Sometimes the mental hurdle is enough to keep us from starting on something we need to get done. Whether you're waiting on seasonality or a bigger paycheck or just stuck in the pursuit of finding the perfect gift, today we're clearing the mental blocks and officially kicking off our holiday shopping.
I'm not telling you you have to put out the Christmas tree before Halloween. Just do one tiny thing to get yourself closer to getting it all done and celebrating the holiday season with your loved ones.
(Image credit: Katarina Radovic/Stocksy)
DAY 5:
Buy one gift this weekend.
Start with the gift shopping list you made on Monday. If you already have ideas for some of the people you have to shop for, choose one of those gifts and purchase it. Make a trip to the store, or hit "add to cart" and have it show up at your door.
If your gift list is void of concrete ideas, spend a minute today trying to write down a few good gifts for the people or categories on your list. Then buy one of those presents and check that person off your list.
It doesn't have to be anything expensive. Or elaborate. You don't have to wait to see if you come up with something better (whatever you wrote down before or selected for buying today is probably perfect—trust your gut!). And you don't have to wait for a thing to go on sale. If it's the kind of thing that gets deeply discounted on Black Friday—sure, wait it out. But if you're putting it off to hunt for a few bucks of savings, consider the value of your time and weigh the option if waiting for a sale is worth it.
If you feel especially motivated by the endorphin rush of crossing one purchase off your shopping list, by all means, shop some more if you have the time and budget for it. The next assignment in the Holiday Jumpstart is on Monday, so you can shop 'til you drop all weekend long, or use the extra days to catch up on something you didn't finish earlier in the week.
See you again on Monday!
---
How to keep up with Holiday Jumpstart: