Mid-Century Modern Is 'Forever' In Amazon's New Show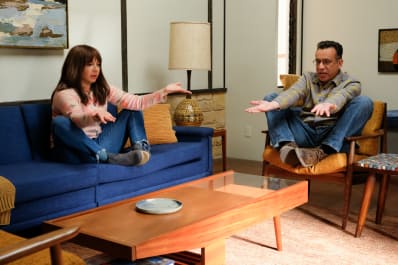 (Image credit: Courtesy of Amazon Studios)
Spoilers ahead for season one of "Forever."
With the Fall 2018 season underway, we are returning to some our favorite TV abodes, and getting invited inside a few new ones. Join us this month as we explore the best homes on the small screen.
Show: "Forever"—Season one streaming on Amazon Prime.
Style: Mid-century modern meets suburban Americana
Why we love it: "Forever" imagines an afterlife that's not all that much different from life itself—and that's both extremely comforting and completely unnerving.
Death is hardly something to fear when it just means moving to a different part of town—and into a mid-century dream house. But the new show from Amazon, starring Maya Rudolph and Fred Armisen as married couple June and Oscar, is more what than meets the (well-designed) eye.
(Image credit: Courtesy of Amazon Studios)
Beyond answering the question, "What happens when we die?" with "not really all that much," the show focuses on how we avoid taking risks and avoid going after what we want when we're alive. And in the "Forever" universe, those same fears and patterns can mean the characters err on the safe side, even in the afterlife.
We chatted with production designer Amy Williams about how she brought the sets to life—or, more accurately, death.
(Image credit: Courtesy of Amazon Studios)
Apartment Therapy: The characters die, and as "formers," they live in a neighborhood in their town. What fueled this version of the afterlife?
Amy Williams: Creators Alan Yang and Matt Hubbard had the idea, what if you die and things aren't that different from your former life? What if the afterlife is just like the suburbs? Cookie-cutter houses, pleasant but not perfect. The idea of a bucolic existence into eternity would be perfectly wonderful for some people, but hell for some others.
AT: The houses are mid-century modern in style and decor— for a show called "Forever," is that a comment on the style's staying power?
AW: It's an ode to many things, the foremost being California life and architecture. California had this boom in the '50s and '60s with cookie-cutter tract houses in towns like Riverside. These neighborhoods were sold as the suburban ideal and the chance for a better or a more peaceful life.
(Image credit: Courtesy of Amazon Studios)
The choice to go mid-century came around for many reasons. We loved the look and the balance of the color palette that comes with the era. To many of us, it's the dream design. It's perfect looking, but the reality is, is it comfortable? It's the classic form versus function conflict. Let's be honest, a mid-century sofa isn't the most comfortable seating option. Would you really want to sit on it forever? We loved the idea of ugly beautiful and finding beauty in the faults in the different homes and environment.
AT: What does each space convey about who lives there?
AW: Each space is sort of the dream pad for each of the formers that occupy it. Mark died in the '70s, so he gets a chill hang pad that has a teen dream feel to it. Oscar gets the beautiful and balanced mid-century home—something that speaks to Oscar's sensibilities and tendencies. Kase's house is also mid-century, but with a masculine confident edge to it, and we created a colorful and fun 1950s playroom for little Josiah. All the homes have what you would think are the ideal elements for each "former," but are they really that perfect?
(Image credit: Amy Williams)
AT: Kase tries everything to get rid of a credenza she hates, but it keeps coming back. Why would it be in her place to begin with do you think?
AW: That's a good question. That Brutalist credenza by Lane, that Kase tries to destroy is totally subjective, right? Some find brutalist to be ugly, others love the chunky nature. It represents the frustration we all encounter with change and choice. You get what you're given and is change even an option in the former world? She's challenging that and reconciling with her past life.
AT: Do you have a favorite piece on set?
AW: So many things. The creators basically let me design my nostalgic California dream house. The sunken kitchen and multiple levels were so much fun to design and incorporate into the set. The lamps in Oscar and June's house are so dreamy. The blue flower lamp on their credenza is just gorgeous. Kase's brown sofa is so cool in an ugly, beautiful, hip way.
(Image credit: Courtesy of Amazon Studios)
AT: Any easter eggs viewers might miss?
AW: So many. The biggest one is probably how we pieced together Oscar and June's house with Kase's house. We scouted for quite awhile to find a house with right look and the right neighborhood. When we found Oscar and June's house, it was almost perfect. Even the color of the house and topiaries were spot on. Kase's house was close, but we needed to change the color, fully landscape it, hide an extra driveway, and attach some architectural details.
(Image credit: Courtesy of Amazon Studios)
Neither of the houses had usable connecting backyards, so we used a pair of homes a few blocks away for the backyard sets. Then we built the interiors on a stage. Oscar and June's house is actually the same size and layout as Kase's house. We just gave each a different backyard set, different furnishings and then in the post production edit we flipped the frame so they would each have the proper mirrored orientation. It's confusing, but it worked. The two houses really feel different. If you look closely you can see it in the actors' faces—they're reversed. In doing that, we saved a bunch of money that could go into more elaborate designs later in the production.
We transformed about 15 homes on that block with all new landscaping, replaced doors, lights, garage doors, and hid all modern elements like mailboxes, satellites, and fencing.
Want to get this look? Here are some similar pieces:
Apartment Therapy supports our readers with carefully chosen product recommendations to improve life at home. You support us through our independently chosen links, many of which earn us a commission.