The Handmaid's Tale Season Two Shows an Eerie Futuristic Boston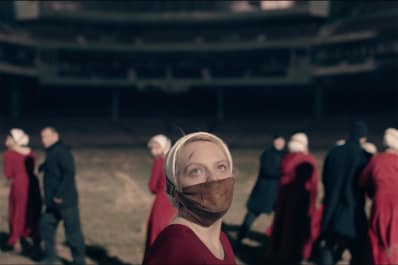 (Image credit: Hulu)
While season two of The Handmaid's Tale was shot in Toronto, its events are set pretty heavily in Boston so far — or at least, in former Boston. The first two episodes of the new season of Hulu's original series about a dystopian future dropped this week, and a new episode will air each Wednesday until all ten are live. Slight spoilers for the first two episodes follow.
Season two isn't messing us around, and gets us right back into anxiety-inducing territory as literally all of the handmaids are dragged out onto what's meant to be the field of the long-deserted Fenway Park. The Green Monster is looking less green and more monstrous, as almost everyone we care about in town is threatened with simultaneous death – all in the first few minutes! Welcome back to Gilead!
The other big set worth mentioning is the abandoned offices of the Boston Globe, printing presses and all. Per the ACTUAL Globe, the show depicts what appears to be the newspaper's old offices in Dorchester. The newspaper admits that the rows of cubicles look pretty accurate for how they were back then, but wants readers to know they now have much better, newer office space downtown. That's way better treatment than what appears to have happened to the reporters for the show's version of the paper.
Some other notable locations are shown in flashback sequences, too. At Boston Logan International Airport, we get a little more information on how the new government tricked families into separating while trying to flee to Canada. Also in flashback is Emily's career in academia, and Boston definitely has enough colleges to make this believable. While the university shown in Emily's flashbacks isn't in Boston, its all-glass curtain wall windows are not unlike those seen on the campus of Brown University.
As for the scenes shot in the town where most of season one took place, an intricate set was built in Toronto, made to look like a New England-style town. Additional filming was done in Ontario, too.
Catch up before episode three hits Hulu on May 2.