HEM Debuts a Fully Flat Pack Sofa at Milan Design Week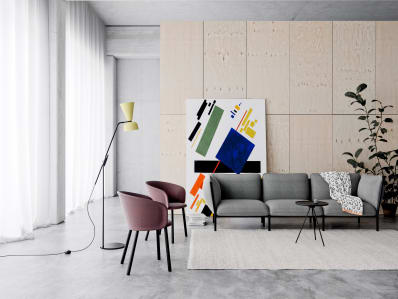 (Image credit: Hem)
Believe it or not, IKEA isn't the only company specializing in uber cool flat-pack furniture. The Sweden-based furniture company HEM is making a mark on Milan Design Week with five new products, among them an innovative flat-packed sofa and conference table.
Maintaining its combined focus on upscale products and a straight-forward delivery process, HEM partnered with French designer Julien Renault and Norway's Anderssen & Voll to create the table and sofa.
The sofa – dubbed Kumo – is a sleek, modular seating option that comes with up to four seats that can be arranged to form a straight row or a corner, but assembly is made simple through a key that's designed to adjoin the pieces. Kumo is available in wool or leather. Renault's Log Table Pro is nearly 10 feet long. The honeycomb structure is topped by a laminate surface and metal legs. The pieces are designed to be assembled by hand.
On perfecting the company's flat-packing process, Hem founder Petrus Palmér tells Dezeen that the feat is extremely significant to the brand.
"That for us is incredibly important, because we ship products from Europe to the US and further," Palmér explains. "So being able to pack on a single palette is a big achievement, and being able to do it without compromising the design is an even bigger achievement."
In addition to the brand's multi-colored geometric patterned Arthur Arbesser throws and Alphabeta lamps, Hem's collection of flat-pack items will be on display from April 17-22.
Hem's bold take on flat-packing is just one of the company's many firsts to take place within the past year. Last August, the company opened its first showroom in Stockholm, and in October, Hem opened its first ever stateside pop-up shop in New York City.