How To Turn Holiday Inspiration Into Reality: Tips from House Beautiful's Sophie Donelson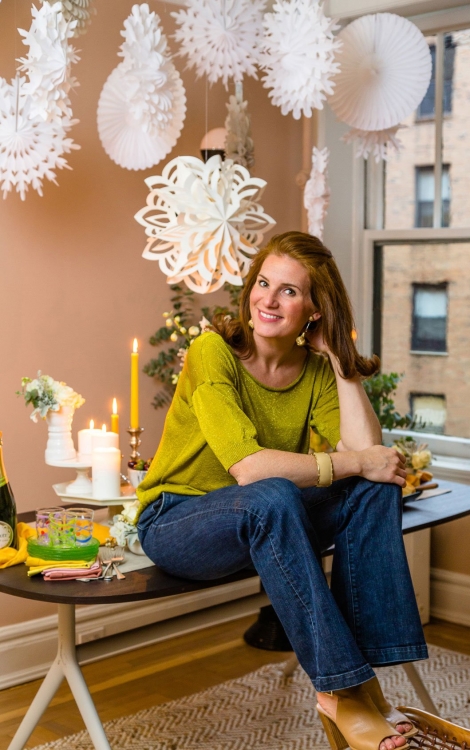 (Image credit: Pablo Enriquez)
The monthly delivery of House Beautiful is one of the only good reasons I check the mail. Lately I've been particularly jazzed about the new Editor in Chief, Sophie Donelson, who brings a fresh, youthful look to what's considered America's most established design mag – and the go-to spot for the best paint colors.
This month's issue features A-list event designer Bryan Rafanelli's tips for a holiday tablescape in your own home. Inspired by Bryan's gorgeous spread, Sophie invited Apartment Therapy to her lovely family home while she set up her own holiday party table. The result is both stunning and achievable – and shows how easy it is to translate high design inspo into real life. Here's how Sophie did it, in her own words.
(Image credit: Pablo Enriquez)
I host friends often for easygoing weeknight dinners in our dining room (think Thai takeout, bubbly, and toddlers running amok), but rarely larger dinner parties à la Bryan's table setting – I'd rather do cocktails and substantial snacks for 12-people plus, so that's how I approached this party.
(Image credit: Pablo Enriquez)
The most revelatory tip from Bryan was about height and the idea of descending (snowflakes) and ascending (tall candles and flowers) decoration. THIS is where the drama lies. That's what had been missing in my prior casual party-scapes, so I was so excited to put that into action.
I try not to buy one-time (or few-time) use items, since there's nowhere to store them in a typical New York apartment; I took to the idea of layering and stacking my own things to achieve that height – and bought the paper decor (more on that later), flowers, and food especially for this night.
(Image credit: Pablo Enriquez)
For decor, I shopped my cabinets and shelves, pulling out pretty much everything in the two dominant colors I noticed – cream/white and green. I pulled down vintage glass vases, white ramekins, teapots, teacups and saucers, footed bowls, pitchers and pretty silver serving pieces. It all went onto a card table so I could assess what I was working with.
One of Bryan's tips is to incorporate personal items into the setting. You'll see a little ceramic bunny and a silver cast iron elephant door stop (!) in the mix there. The ceramics are from flea markets and eBay. And I don't think I've ever set a table without including my "gurgling cod" pitcher, a Massachusetts icon. I received this one in college from my parents. These special, one-off pieces are what heighten the experience for guests. In our feature stories at the magazine, it's antiques, custom-made furniture vintage pieces, and art that add the specialness to a room. Table setting is no different.
(Image credit: Pablo Enriquez)
The thing that really makes it all cohesive and fabulous is flowers. I'm a big fan of buying a few faux stalks of special varieties to mix into fresh local greenery, supermarket, or bodega greens. Again, abundance is key – that's part of what makes House Beautiful photo shoots so gorgeous! I used baby amaryllis, dusty miller (I love that name), white roses and some snow berries. I always buy eucalyptus at the farmer's market at this time of year. So much prettiness for the dollar! And it smells incredible and fresh, something no candle can replicate.
I love clustering small arrangements for impact. What's better: when the party's over, the minis go into the bathroom, my bedside, over the sink, etc. – the party spirit lingers for days!
Bryan used tall glass bud vases (CB2 sells a similar version for candles here and here) to add a little glint and luminosity, but I chose white pillar candles (from Michaels) for flickering light and a few hits of silver and gold for glimmer.
(Image credit: Pablo Enriquez)
Now onto height. Our in-house stylist and market editor Melissa Colgan turned me onto Luna Bazaar for paper decorations. I thought I would need about 5-7 hanging ornaments for my 6-top table, but in the end we hung 13. You can never go wrong with abundance. At $2 to $3 each, why NOT order extra? I purchased one extra-special paper star as the centerpiece.
(Image credit: Anna Hoffman)
To add height to the table, I imagined three major "moments" of height, so I stacked cake stands and footed bowls to achieve it. I don't love symmetry, so I aimed for towers of dissimilar height. Things toppled! Avoid that by using glue dots to secure the ramekin to the teacup.
(Image credit: Pablo Enriquez)
In lieu of a flat table runner, I like to use two and make swoop-y, Renaissance-inspired folds and puddles of fabric. It's instant decadence. this runner came straight from the dryer – naturally wrinkled! – you can also iron and starch it for a more polished, voluminous effect.
Thanks, Sophie, for these wonderful tips! We can't wait to put these ideas to work for our own holiday celebrations (I literally just planned a mid-December party specifically as an excuse to try the runner variation and this new descending/ascending decor idea).
Don't you love real-life inspiration like this? This month, you can check out the Bryan Rafanelli holiday party decor article that inspired Sophie's tablescape. In fact, every issue of House Beautiful aims to show how big design ideas can be tailored for every home, for every kind of designer (professionals and enthusiasts) and for every kind of space, from big to teensy.
For the holidays, House Beautiful is offering a special holiday two-for-one offer for a full year's subscription. For a total of $10 (or $5 each), you and the lucky friend of your choice can get inspiration from fabulous interior designers and pro tips on the best paint colors for every room and project – month after month!
Click here for a special holiday offer from House Beautiful!