Here's One Smart Way to Handle Your Lost Sock Problem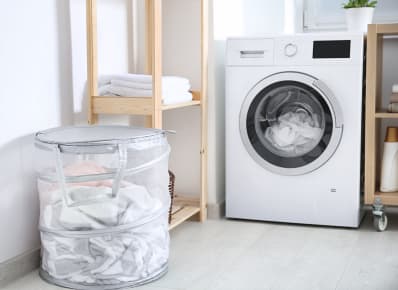 (Image credit: Africa Studio/Shutterstock)
Keeping socks paired up through the laundry cycle is pretty simple if you toss them in a mesh bag beforehand, but that step doesn't make its way into everyone's routine. If you're more likely to toss dirty socks in the general direction of the hamper—well, you're probably hoarding a pretty large "orphan sock" collection.
The best thing you can do, if you hope to reunite those lost socks back into a pair, is keep them collected close by, waiting for the other sock to escape the grips of the hamper or washer or dryer where it's hiding.
But if it's been a few months and you still can't shake your sock orphans, chances are pretty slim you'll find the match. In that case, the second best thing you can do with lost socks is...
...recycle them into something else!
We've rounded up a few savvy ways to put those lost socks to use.
Use them as dust rags
Socks usually generate some amount of static which makes them fantastic for picking up dust—a "life pro" tip we picked up from Clorox. Just slip one over your hand and get to dusting. When your sock is covered in dust, just toss it in the washing machine and use it again and again.
Use them as shoe covers when packing your suitcase
Even if your shoes appear to be clean, they're probably covered in germs that you don't want to expose to your clean clothing while packing your suitcase. Slip a few of the mismatched socks around your shoes, like the Krazy Coupon Lady shows here, to keep things nice and tidy while traveling.
Fit them around your dust mop for a reusable sweeper pad
Say goodbye to disposable pads. A fuzzy mismatched sock works just as well for sweeping and scrubbing, and can be tossed in the wash when you're done, to be used again.
Make a homemade heating pad
An idea from Ashley Hackshaw: Fill the orphaned sock with rice, toss in some dried lavender if you're feelin' fancy, and either tie up or sew the end shut. A few minutes in the microwave and you've got a nice warm heating pad to keep you toasty and feeling fine.
Create a cold pack cover
We usually reach for a towel to wrap around an ice pack, but all that excess towel can get bunched up and keep the cold from coming through. Next time you need to ice, take a cue from the Krazy Coupon Lady and grab a sock to provide a smooth, soft barrier around the harshness of the pack.
Use it as a shoe deodorizer
An idea from Dwelling in Happiness: Sprinkle a few tablespoons of baking soda in a sock, tie it up (or use a clip or rubber band) and place it in your gym shoes to keep them smelling fresh and odor-free. If you've got school-aged kids at home, send a few of these with them to stick in their gym lockers at school.
Dust your blinds
Slip a sock over your hand and get to work dusting your blinds. The little bit of static will attract any dust you run the sock over, making it the perfect hack for cleaning your blinds.
Wrap them around cups and glasses when you move
You may want to dip into your matching socks drawer for this next tip—it's a good one: Slip a sock around your cups to keep them protected while moving. If one happens to break, the glass is contained for easy disposal.
(Image credit: Makistock/Shutterstock)
Donate them
Last, but certainly not least you can always donate your mismatched socks. It may sound less than desirable for you to wear another person's socks, but warm, dry socks are one of the most needed items for the homeless, especially during the winter or rainy season. New are usually preferred, but if your loners still have a lot of life left in them, give it a shot. Try as best as you can to match up similar pairs, paying attention to thickness and content, then pack them in plastic bags to keep in your car or personal bag to hand out to people in need.
What do you do with your mismatched socks?