IKEA's Latest Collaboration Is Designed To Display — Not Hide — Your Stuff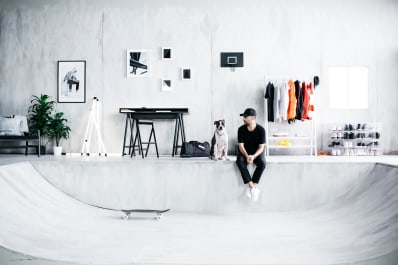 (Image credit: IKEA)
When we think of storage, it's usually about hiding our belongings from view. But not everything is meant to be stashed away and out of sight. IKEA's latest limited edition collection is about showing off your stuff and putting your unique style on display.
IKEA teamed up with Los Angeles based fashion designer Chris Stamp of Stampd to create SPÄNST. The collection embodies what it means to organize and display our favorite and most prized possessions.
For those who lean toward the sartorial lifestyle, SPÄNST features minimal clothing racks and mesh armoires, as well as stackable clear shoe boxes.
Skateboarding weighs heavily in the design and functionality of the collection, and even includes IKEA's first ever skateboard. "I grew up surfing and skating," Chris says. "Here in So Cal, skating is more than transportation. It's a culture and an intimate part of the Stampd DNA. I'm honored to get the opportunity to design the first skateboard ever at IKEA."
There's also a storage piece that acts as both a sneaker and board rack that could act as the ultimate landing strip item for a skater with a small entry area or hallway (or just someone with a lot of shoes).
The skateboard isn't the only sporty addition to SPÄNST; there's an indoor basketball hoop, and a duffel bag to take you to and from the gym, skate park, or vacation.
"The idea behind the collection is for IKEA to reimagine how the younger, aesthetic, conscience, consumer is organizing their wardrobe and accessories at home. I want them to be able to take pride in how they display their clothing and footwear, allowing them to appreciate their pieces just as much when they're not being worn," Chris says.
"For me, good design is minimal at its core, and that's a lot of what this collection speaks to. I see some of the pieces being staples several years from now. I hope people will see it as a fresh addition to the IKEA range."
And Chris' favorite piece is indeed minimal: The LED light stick can be leaned in a corner or clipped on the wall. "The light is just an awesome piece. You can use it in so many different realms, and the fact that you can charge it with your USB makes it really flexible — whether it's on your wall with your smartphone adaptor or with your computer," he says.
Check out the collection in the gallery below:
SPÄNST launches globally today and in the Burbank, California location. The limited edition collection will be available in additional IKEA US stores in May.