Kate & Chad's Art-Filled Dwelling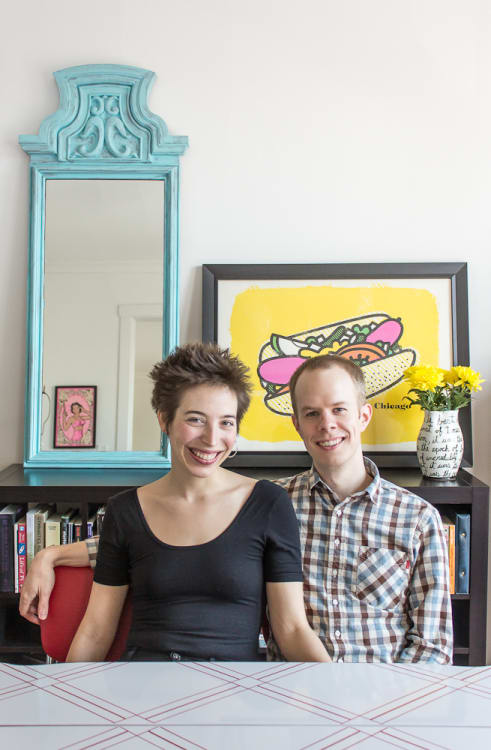 Name: Kate Korroch, adjunct faculty at The School of the Art Institute of Chicago and art and culture critic, and Chad Jewsbury, front end web developer at Groupon
Location: Ravenswood; Chicago, Illinois
Size: 800 square feet
Years lived in: 9 months; Rented
Art leads the way in Kate and Chad's colorful and curated Chicago home. Working with a simple, open layout, with white walls as their canvas, the couple bases their apartment design on what matters to them most.
Although we knew each other from classes at grad school, I was definitely certain that Kate and I had a lot in common when I visited her and Chad's apartment and beheld their enviable cocktail cart/mobile bar and energetic collection of art. As a young married couple working within a budget and the parameters of a rental unit, they prioritize and practice patience in order to make their home comfortable and stylish without breaking the bank, all the while developing their young art collection and making the space useful for multiple purposes, like working from home and entertaining.
Bringing together their somewhat disparate individual aesthetics — he prizes simplicity and clean lines, she loves pops of color and vintage — has been part of the challenge, one that I think has worked out well in this latest edit of their space. Great Ebay and Craigslist industrial finds like the tanker desk and silver-stemmed chair mingle easily with their vibrant and growing art collection, while DIY projects geared toward items that would be expensive to purchase, like the bare-bulbed lamp and tufted headboard, help round out the space and add a layer of luxury living without the cost. I especially love how they use the colors of their favorite displayed works to guide the hues in different areas of the space, subtly creating visual delineations that convey their sense of enthusiasm and delight in composing their home.
Apartment Therapy Survey:
My Style: Equal parts eclectic and deliberate, two dashes of retro, with a twist of modern.
Inspiration: We are inspired by our art collection. Each piece acts as a marker in the timeline of our lives— our tastes, our travels, people we know.

Favorite Element: Chad: the globe and the black lamp. Kate: the commissioned Hazel Dooney painting and the "butt" (aka the dress form).
Biggest Challenge: We have two tiny closets, so storage has been a challenge. We have purged many of our possessions and slowly purchased items that have increased the space for storing.
What Friends Say: "It's so urban!" This comment is in reaction to the "L" train right outside our east facing windows.
Biggest Embarrassment: Chad: Kate's "butt" (aka the dress form). Kate: a lamp that has never been used and shifts around the apartment.
Proudest DIY: Kate: The black standing lamp and vintage bulb (which was transformed from a dusty, old, brown lamp without a blub into what it is now). The most intense and collaborative DIY is the tufted headboard.
Biggest Indulgence: Our bar. We love having friends over and making new cocktails!
Best Advice: Only buy the things you love, the rest will fall into place. Trust your taste.
Dream Sources: Praha, Architectural Artifacts, Salvage One, and art from around the world, especially from Angelica Dass, Chang Jia and Gyun Hur.
Resources of Note:
ENTRY
· Metal Porcupine Star: gift from an aunt in Michigan

LIVING ROOM
· Tanker desk: Craigslist
· Tanker chair: Ebay
· Easel: Dick Blick
· Poang chair: Ikea
· Bird pillow: Urban Outfitters
· Bar cart: CB2
· The PDT Cocktail Book: The Complete Bartender's Guide from the Celebrated Speakeasy: gift from sister
· Lamp: parents' garage, spray-painted with new light bulb
· Cocktail mixing glass: Cocktail Kingdom
· Female form: from a closing retail chain (maybe Liz Claiborne?)
· 1950s black globe: Ebay
· Karlstad loveseat in Gray: IKEA
· Couch pillows: IKEA
· Candle on book near pineapple: Anthropologie
· Lamp on desk: IKEA
· Orange tractor stools: Bizchair
Art:
· Pineapple, Kate Korroch
· Phai (man with bong), Vietnam
· Ballerinas, Thrift Store in Bloomington, Indiana
· Face painting by Karen Gagich from Anne Leuck Feldhaus
· Dune View I by Sandra Lummen (on ease), gift from Kate's sister
· Ghost With Mirror by Hazel Dooney: commissioned Christmas gift from Chad to Kate
· Feel the Confidence, Jon Hewitt
· You Anchor Me print: Blacklist Studio
· Abstract oil painting by Brenda J. Clark


DINING ROOM
· Wine rack: furniture store in Sutton Bay, Michigan
· Hot dog print by Delicious Designs purchased at Renegade Art Fair
· Tale of Two Cities pitcher: wedding gift from Kate's aunt in Michigan
· Green hutch: Nadeau
· Plates: Anthropologie
· Yellow Les Creuset
· Red cabinet: IKEA
· Batman vs. The Shark, silkscreen print by Justin Mages
· White Girl Problems, silkscreen print by Justin Mages
· On kitchen dresser: Study For Modern Strageties Of Survival: Resized For Mass Consumption by Hazel Dooney; Justin Mages print; ice bucket gift
· Vintage enamel table from Carlos and Sarah's Surplus of Options
· Red retro chairs: Model Furniture in Chicago
KITCHEN
• Painted bowls from Katiedid Studio based in Virginia (Kate's Mom's former art studio)
• Red metal basket: Praha in Chicago
• Color bowls: Williams Sonoma
• Wooden knife blocks: Williams Sonoma
BEDROOM
• Tufted headboard inspired by this DIY
• Duvet, shams, and throw: IKEA
• Expedit bedroom shelves: IKEA
• Bedside table: old painted furniture with Anthrolpologie knob
• Lamp: gift from Kate's Mom (I think the shade it's Target?)
• Bedside photo: Kate and Chad's engagement photo by Wedding Creativo
• Golden pig on shelf: from South Korea
• Sweet Olive Blossom candle: Anthropologie
• Bench custom-made from Kate's childhood bed
• Leg print, Lake Michigan, Chicago by Daniel Seung Lee
• Kate's dress forms are from various found object stores in Virginia
BATHROOM
• Rug: Anthropologie
• Candle: Anthropologie
• Mary Cassat prints of little girls
• Raoul Dufy print
Thanks, Kate and Chad!
(Images: Alexis Buryk)
• HOUSE TOUR ARCHIVE: Check out past house tours here.
• Interested in sharing your home with Apartment Therapy? Contact the editors through our House Tour Submission Form.
• Are you a designer/architect/decorator interested in sharing a residential project with Apartment Therapy readers? Contact the editors through our Professional Submission Form.
Apartment Therapy supports our readers with carefully chosen product recommendations to improve life at home. You support us through our independently chosen links, many of which earn us a commission.