All the Details on St. Mary's Hospital, Where Kate Middleton Will Give Birth for the Third Time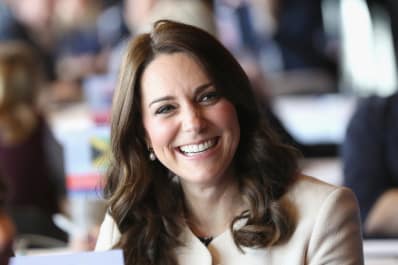 (Image credit: Chris Jackson/Getty Images)
We've seen Prince William and Kate Middleton stand on the famed hospital steps twice before, but that doesn't take away the excitement that comes with baby number three. So it's no wonder that things are already bustling at the Lindo Wing of St. Mary's Hospital, where the Duke and Duchess of Cambridge are expected to welcome their third child later this month.
The iconic London location has plenty of significance for the royal family: Both son George and daughter Charlotte were born at the Lindo Wing, and it's the same spot where Princess Diana herself stood with Prince Charles after delivering both Prince William in 1982, and Prince Harry in 1984.
Designed by Sir Edward Cooper, St. Mary's Hospital first opened in 1937. Before the establishment of the National Health Service, the Lindo Wing was far from its current stature as the creme de la creme of maternity wards. Instead, St. Mary's was a a voluntary hospital for the treatment of "the deserving poor." When the NHS took over in 1948, it became available to all people.
Now, the 16-room maternity wing is split between five rooms for labor, and 11 for postnatal care. But it's far from your typical hospital; on the St. Mary's website, it's stated that the Lindo Wing has a "dedicated hotel services team," meaning the location for Kate's delivery will seem like a five star hotel. Decorated with modern art by London's Julian Opie, suites run upwards of $9,650 per day, US Weekly reports. And seeing as Kate and William's exact room has been claimed since mid-March, you can imagine that hefty bill.
And while the press will be flocking to the Lindo's famed steps in droves, the hospital ensures families an extra dose of privacy and security on their big day. "Discretion is key to our service, and we will ensure that you have the space, security and privacy you need to enjoy these precious early moments as a family," reads the hospital website.
But for Kate and William's special delivery, even further precautions are taken: "Security does regular sweeps of the room, then it's resealed each time with tamper-proof tape," Us Weekly reported. "It's a high-security operation. Even the crawl space above the room is checked regularly."
Preparation outside the Lindo begins long before Middleton steps inside. In fact, PEOPLE reports that in the lead-up to Prince George's birth, there were ladders in position across the road from the famed hospital doors for at least three weeks before Kate delivered. Now, there are several signs that things are brewing inside: Popular blog Teatime with the Cambridges snapped a photo outside the Lindo Wing's entrance last week, showing the fresh coat of paint applied on the railings out front.
"ROYAL BABY ALERT," they wrote. "THE RAILINGS OUTSIDE THE LINDO WING ARE BEING PAINTED! IT'S HAPPENING GUYS!"
TWTC continued by stating that parking restrictions begin at the on April 10, with media allowed to start setting up on April 11.
"Let the door watching begin next week!" they captained the photo.
As for the royal baby's debut to the world, that will all happen on the famed front steps of the Lindo Wing. While she's expected to be due around April 23, the hospital is more than ready for Kate's arrival at any time: According to US, they'll only get a five minute warning that Kate is en route from her home 2 miles away in an effort to "prevent anyone being tipped off that she'll be leaving home." But for now, Middleton seems to be going about her daily routine. She was spotted grocery shopping at Waitrose in Norfolk a couple of days ago with her own reusable bags.