Give Your Closet Its Seasonal Switch in 3 Steps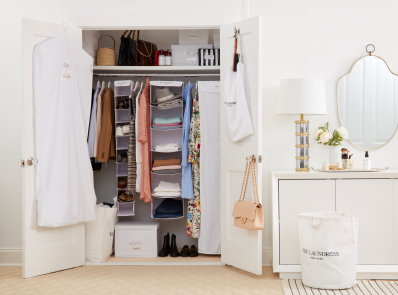 (Image credit: The Laundress)
A change of season brings the opportunity to hit refresh on your closet: Even if you're just swapping out sundresses for lightweight cashmere, this is a great moment to make sure your warm-weather clothes will have a happy hibernation and to move your sweater-weather wardrobe to first position. Show your pieces how much you love them with these three easy steps.
---
---
(Image credit: The Laundress)
1. Pack up that summer gear.
The first step of packing is washing: Please, please, please only store clean clothes. Do a few loads before you store your wardrobe to eliminate traces of body oils, perfume, and residue that act as a food source for bugs and cause hidden stains to surface later on. Try using The Laundress Signature Detergent — it ups the ante on the grocery store stuff by using a plant-based formula with enzymes for a more thorough clean and has the ultimate "fresh laundry" scent. Then, pack your freshly washed duds properly in sturdy, protective cotton storage solutions, like canvas storage boxes—which keep clothes impervious to critters, dust, and discoloration.
(Image credit: The Laundress)
2. Refresh your knitwear.
Get winter-ready with laundry formulas that best clean and care for your wardrobe investments, that way your favorite pieces can last season after season. The Laundress has a whole line of products to help you take care of your sweaters and cozy wear, like their Wool & Cashmere Shampoo for a thorough clean, Scented Vinegar to neutralize lingering odors, and a Sweater Comb for de-pilling. The Laundress cofounders Gwen Whiting and Lindsey Boyd specially developed the Wool & Cashmere Shampoo to keep your woolens clean, soft, and stain-free.
(Image credit: The Laundress)
3. Organize winter gear for good.
Colder temps mean a lot more layers. Don't let bulky items take over your closet: Hang winter coats in stylish storage bags and corral gloves and scarves in slim hanging closet organizers. They'll keep everyday items accessible while maximizing space for heavier winter items.
Properly cleaning and storing your items will keep you looking and feeling your best (and make your investment pieces really earn their value).
This post is sponsored by The Laundress and was created by Apartment Therapy Creative Studio.
Thank you for supporting the brands that make Apartment Therapy possible.