Letter From Our Editor: What's Going on At Apartment Therapy?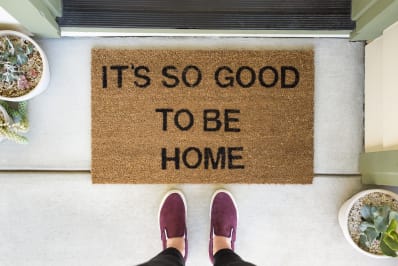 (Image credit: Amy Covington/Stocksy)
I'm going to tell you something a little personal. Growing up, I used to switch houses every Friday. My parents are wonderful, but I secretly hated all of that shuffling in between. Like everything complicated in life, it had its pros—namely that it made me into, what I hope, is an adaptable, resilient person. But I just wanted one bedroom and one set of rules (and to know exactly where my favorite jeans were).
It also made me a little bit obsessed with the idea of home. Since then, I've moved a lot—transient dorm rooms; a studio apartment in graduate school; a London flat where I could lie on the bed and touch my feet to the ceiling and stretch both arms to reach the walls; a possibly bedbug-infested studio on Manhattan's Upper East Side; and my current NYC one-bedroom apartment where I've lived with my husband for the past eight years (if it ain't broke, don't fix it). But no matter how long I'm staying somewhere, I need to make it feel like my home base—I love that sense of permanence.
Some people might think creating content about home design is trivial, but those of us who love this site know that building a happy home is actually really important. I just told you my reason, and I'd be honored to hear yours. I also know that Apartment Therapy has created a community where you find (and provide!) inspiration and ideas for how to develop spaces of your own since we were invented in 2001—starting as Maxwell's blog, and then growing into a media company built for 2018.
With that growth has come changes (including bringing me on as the editor-in-chief this past December). It's meant growing to adapt to new audiences, social media, and all of the realities of the media business. Lately, we've heard from a lot of you in the comments section that you have some questions about these changes and I want to take a moment to explain. Below are some of the most common questions I've been seeing, along with my answers.
1. Do you label sponsored content? Always! We cover HGTV, IKEA, and more editorially because a lot of our readers really like them. All of our sponsored content from partners is clearly labeled at the top (and we hope you like that content, too). We value transparency.

2. How much does Fixer Upper pay you to promote it? We promise, if someone is paying us to cover something, we will always, always tell you. A lot of our readers love Joanna and Chip, and though their show is over, we imagine they will be back in our lives. As a site that covers home improvement, we consider them to be in our wheelhouse.

3. Why do you cover stuff we tell you in the comments we're not interested in? When Apartment Therapy launched, we built an amazing community. We can't believe how lucky we are to still be able to count on you all of these years later. We also want to keep growing. We have a really big following who is looking for lots of different content. Just because you didn't love it doesn't mean someone else didn't ask for it.

4. Where did all of my favorite features go? Like house tours! We're still sharing one or two new house tours every day of the week. Want to find them directly? Head here. As we cover more types of content, it can be difficult to surface exactly what you are looking for, we get it. But we promise we're still covering cool, small space ideas, design inspiration, and real-life house tours. We also have classics like the January Cure every year, plus some fun new stuff up our sleeves. Miss something in particular? Please do let us know (more on that below).

5. Why do you cover celebrities? We believe design inspiration can come from all kinds of sources—from my grandma's rug (Hi, Grandma!) to the celebs who drive pop culture trends. We try to tackle it all.

6. Wait a minute, what about the Small Cool Contest?! We get more questions about this than anything else. We promise we hear you and are working so hard behind the scenes to bring you a 2018 version of Small Cool. We'll keep you posted.

7. What happened to Ask Alice? She's still here (after a bit of a sabbatical)! Email her your questions about how to live more peacefully at advice@apartmenttherapy.com.

8. Your name is Apartment Therapy. Why do you cover houses? We believe inspiration can be derived from all types of homes and spaces. When we launched, Maxwell was the original "Apartment Therapist," going into NYC apartments. As we've grown, so have the types of spaces we cover. But we do try to focus on small, interesting, and relatable homes. In 2018, we are also focused on doing more coverage on how people use and live in their spaces. We'll be curious to hear what you think of it.

9. Do you read the comments? Sure do! We appreciate every last one of you and we respond as often as we can. We also want to help to create a positive community where people feel comfortable sharing their real-life homes—because that takes guts.

10. I have a question you didn't answer. What about that? Please, email us questions and feedback at community@apartmenttherapy.com. Due to the volume of messages, we can't answer every email all of the time, but we will try to compile the themes that bubble up like this regularly and answer your questions.
Finally, let me just say—I hear you and appreciate the time it takes to leave a comment. And I love Apartment Therapy as much as you do.