A Fun Mid-Century Modern Home Is Hiding a Cute DIY Faux Fireplace Idea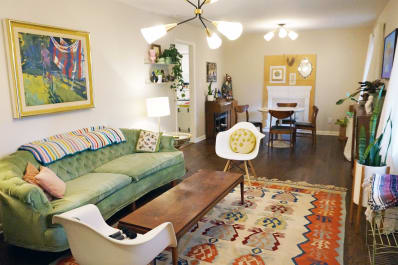 (Image credit: Chelly Tavss)
Name: Chelly Tavss, my cat Sheridan, and occasionally my canine brother Sunny
Location: Athens, Georgia
Size: 1,600 square feet
Years lived in: 10 months, owned
I am a photo archivist, and relocated from Charlotte to Athens a year ago for a position with UGA Libraries. It was difficult leaving my home of five years and all of the friends that I had made, but it allowed me to move closer to family. Buying a home right off the bat was risky, but I knew that having a place I could completely make my own would help me settle into my new life easier.
(Image credit: Chelly Tavss)
It is just me and my cat, Sheridan (a.k.a. the little monster); my home is on the east side of Athens in a mid-century neighborhood aptly named Green Acres! All of the homes were built between 1940 and 1970. My home is a traditional mid-century ranch home, with a double carport and long hallway leading to each bedroom on one end of the house.
Describe your home's style in 5 words or less: MCM Inspired Fun and Inviting
(Image credit: Chelly Tavss)
---
Chelly DIYed the faux fireplace art piece: "It's a piece that has grown over the years with subsequent moves; I actually have a project in the works to turn it into a full wall cabinet soon.
It is made up of six individual wood 'canvas' panels, with a wooden deer head that I found years ago at HomeGoods, a vintage mirror, and an assortment of art that I love. In the small painted rectangular frame I rotate photo booth pictures of myself and my friends/family."
---
What is your favorite room and why? The living/dining for sure! It's a great, big room but is cozy and inviting; the eight-foot long tufted sofa is the best place to curl up and binge watch Netflix, while the dining table is a great place for DIY and art projects. The tiki lounge in the basement is a close second though!
(Image credit: Chelly Tavss)
What's the last thing you bought (or found!) for your home? A ceiling fan for the living room; I am definitely a design snob, and believe that form is just as important as function! So when I decided that I needed a fan it was important that it fit within my aesthetic and complement the existing light fixtures in the room.
(Image credit: Chelly Tavss)
Any advice for creating a home you love? Don't buy place-holders! Furnish and fill your home with pieces you absolutely love, not things to fill space until you find what you love.
Thanks, Chelly!
• Interested in sharing your home with Apartment Therapy? Contact the editors through our House Tour & House Call Submission Form.