Must-Haves For Your Dream Home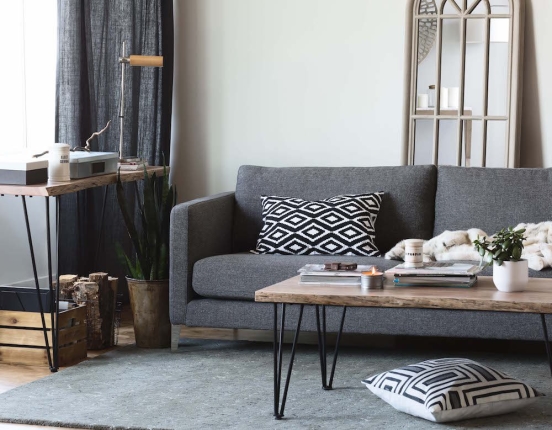 (Image credit: Structube)
When does your home become your dream home? How about when you hit that elusive balance of style and personality: Straddling the line between magazine-shoot-worthy and somebody-actually-lives-here is a kind of nirvana. Here are five must-haves that will help you get there.
(Image credit: Structube)
A sleek — but welcoming — living area
We've all been in homes where "nap potential" clearly wasn't a couch-buying criterion; I love how this couch plumps up sharp midcentury lines without diminishing their impact. Add a subtle coffee table (like this marble beauty), a couple plush pillows and a touch-me blanket, and you've got a quietly chic space that says, "I fell asleep here while watching an Eames documentary."
(Image credit: Structube)
An inspiring work space
Set your desk free from workaday drudgery by outfitting your view with things that spark creativity, from bright mirrors and unique ceramics to decidedly non-corporate storage. And speaking of desks: Isn't this hand-brushed, hand-polished mango wood one grand?
(Image credit: Structube)
A catch-all area for regrouping
A dedicated entry space (aka a landing strip) can save your sanity while still cutting a stylish figure: A slim chair provides a spot to set down bags or take off shoes, a USB-integrated lamp (#obsessed) adds soft light and charging power, and a mod sideboard means storage worth staring at.
(Image credit: Structube)
A serene sleep space
When you're afraid you won't get out of bed in the morning, you know you're doing something right. Think rich wood accents, luxurious bedding, and a positively indulgent bed. Oh, and ditch overhead lighting for the warm glow of low-hanging pendant lights.
(Image credit: Structube)
Dinner party central
It's why we throw housewarming parties: Home doesn't feel like home 'til you make some memories in it. Get a big ol' dining table and some comfy-meets-classy chairs, invite your pals over, and share a feast to remember. Repeat.
Make all these must-haves happen with Structube, a dreamy company that's offering a new — affordable! — alternative to online furniture shopping. From the bed you wake up in to the couch you binge-watch on, Structube has contemporary products in a variety of styles. And you'll love the prices as much as the pieces.