I Thought I Was A Big Reader—Until Nicole Richie Posted Her Summer Book Stack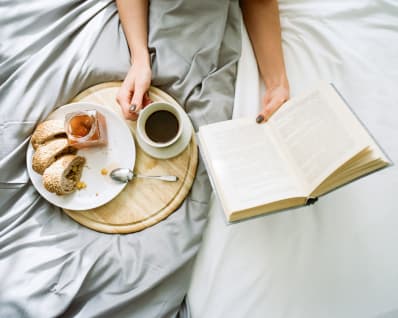 (Image credit: Duet Postscriptum/Stocksy)
I fancy myself a big reader—if you ask my opinion on a book, chances are I've read it or heard about it or read something else by that author. I've set an ambitious goal of 100 books read by the end of the year (and I'm continuously shamed by Goodreads for falling behind). But leave it to Nicole Richie to knock me down a few pegs with a single Instagram post.
I knew Richie was a bookworm from following her Instagram, and I've always admired her diverse taste in books. She tends to read a wide range of novels, and often picks up books that have gone unread on my shelves for months. But recently, she posted her summer book stack—an impressive 15 books!—and I realized I can barely call myself a reader at all. I'd only read one of the books in her stack. One!
And now, of course, I've added 14 more books to my list. A few had already been there, including Putney and Tell The Wolves I'm Home, and I've read other work by Maggie Nelson, but a few of the titles in Richie's stack intrigued me and pushed me to find out more. Here are a few new ones I've added to my list based solely on their titles and their spines. Hey, they say don't judge a book by its cover but they never said anything about a spine.
Apparently, Lightman is a writer and a physicist, so he knows what he's talking about. This book grapples with some of life's unanswerable questions, posed to us by various religions, while balancing those with the evidence science uses to prove nothing is really eternal. Woah.
Here's a midlife-crisis memoir, but one that seems funnier and smarter. Dederer uses her teenage years, a time when many of us experience our most extreme emotions, to mirror her experience as a married mother of two, suddenly experiencing a heightened sense of want and longing.
Do you know what the subtitle of this book is? A Surprising Exploration into the Wonder of Consciousness. Clearly, Richie had a more intellectual summer than any of us. Montgomery travels to aquariums and reefs all over the world exploring the brain and intelligence of the octopus and its many personalities and behaviors. This might be the most intriguing title in the stack.
Huey is the 14-year-old son of a white father and black mother, and a recent transplant to New York City from a small town in Georgia. The story see-saws between his time in an elite high school in New York, where prejudice still runs deep, and his time in a small Georgia town during the Civil Rights Movement, where he witnessed and experienced racism and hatred that drove him and his mother to move north.
Apartment Therapy supports our readers with carefully chosen product recommendations to improve life at home. You support us through our independently chosen links, many of which earn us a commission.