Our Clean Little Secret to Smarter Storage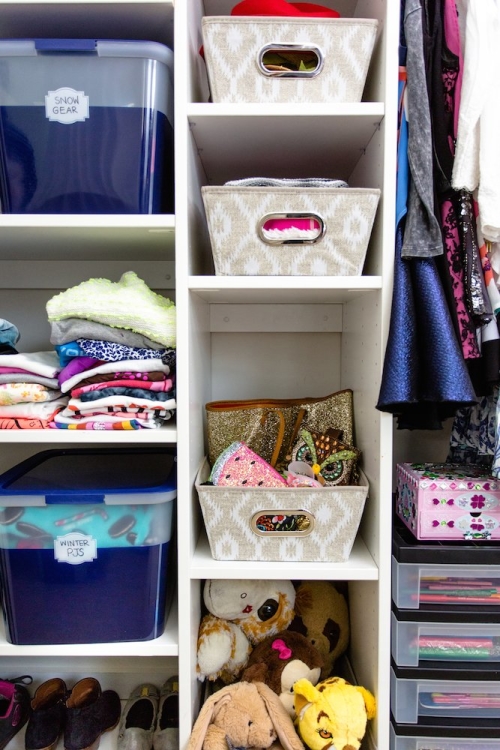 Lately, we've been browsing photos of impeccably organized closets with the same dreamy eyes usually reserved for tropical beaches. (Hmm, maybe we need an organization overhaul and a vacation?) Yep, we're jonesing for containers, cubbies and closet space so we can stay organized all the time, not just after we clean. We took the top storage tips that we've learned from all our daydreams – and put them into action.
Tip #1: Put small accessories in their places.
Decorative shelf totes keep small items that would otherwise get smushed and smashed — like purses, scarves and gloves — in an orderly lineup. Bonus: You can see the whole collection at a glance, so getting ready is a snap.
Tip #2: Use boxes that look as good as they store.
Heavy-duty plastic containers are ideal for containing bulky items like blankets and duvets, but who's excited to redo their closet with ugly tubs? Exactly. Which is why we promptly bought a couple of these chic floral boxes by Cynthia Rowley. You're putting a lot of work into organizing — you should like the look of the results.
Tip #3: Drawers aren't just for desks.
A mobile drawer unit is perfect for corralling the odds and ends that never seem to have a home, like craft supplies for the kids. In the closet, it can do even more, hiding and organizing everything from medicine and toiletries in the bathroom to socks and underwear in the bedroom.
Tip #4: Be label-conscious.
For seasonal storage, find a sturdy bin with a lid (to keep out dust) and label one side with one season's contents (ie. "Winter PJs" or "Snow Gear") and the other side with what you'll store the rest of the year (ie. "Beach Gear").
Tip #5: Pare down your papers.
Whether or not you have a dedicated home office, all of life's paperwork needs to live somewhere. Clear file boxes keep your most important docs handy and organized, and they're easily stacked and stashed away when you don't need them (because your remote-control warranty isn't a pressing matter).
Tip #5: Take back the closet shelf.
Guilty as we all are of it, "toss it up there and hope it stays" isn't a storage strategy. Reassemble the contents of your closet shelf with large decorative bins and boxes categorized by content. (Staples has great boxes, including ones with windows for easy identification.) We like to designate one pattern for sports equipment, another for outerwear accessories, and so on.
When it comes to storage solutions, Staples makes it easy to make more happen — and, with hassle-free, one-stop shopping; a huge selection in-store and online; and savings like weekly ads, daily deals and rewards, we can spend less to do it!
Head to Staples to get everything you need to solve your storage woes!