Before & After: Paint This Easy DIY Headboard Now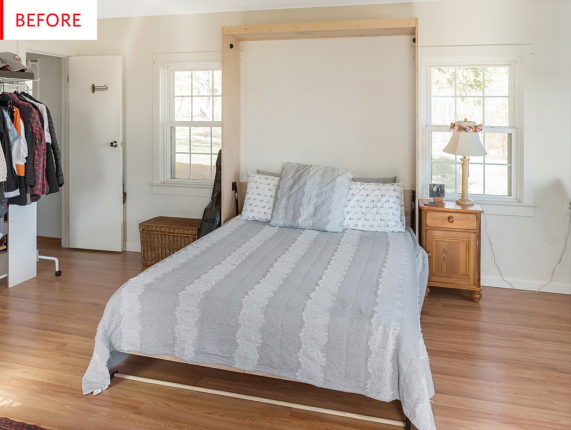 (Image credit: Emma McAlary)
Few home projects are as invigorating, and instantly satisfying, as paint projects. They're way more affordable than new furniture, way easier than renovations, and way more fun than spring cleaning. Color is the fastest path to a home with more personality and—trust us on this—there's always room for it.
Case in point: Shaina and Michael's tiny home. Though just under 400 square feet, it uses the power of Sherwin-Williams paint to amazing effect, and its colorful touches—like this eye-catching faux headboard—can translate into any space.
(Image credit: Emma McAlary | Apartment Therapy)
Using a Murphy bed saves the couple a full quarter of their total square footage. But even in the up position, it's still on display. Painting its underside gives it some character by day. Then by night, a corresponding headboard pattern says bedtime without adding bulk.
First, color choice: Shaina and Michael opted for a trio of serene blues (Drizzle SW 6479, Reflecting Pool SW 6486, Tidewater SW 6477) and a soft white (Extra White SW 7006). Together, they signal a smooth transition to shut eye.
(Image credit: Emma McAlary | Apartment Therapy)
For the design, this nature-loving couple chose mountain peaks to echo their Virginia setting, also opting to leave some raw wood for a more rustic look. Because their design is so intentional, the final result stands out while still feeling rooted in their space.
(Image credit: Emma McAlary | Apartment Therapy)
TIP: We made the pattern by sketching it first on paper in scale, 1" = 1'. Then we put dots around the perimeter where each line starts and ends and connected those dots. An even easier method is to use an projector and trace the lines...for those who have projectors.
(Image credit: Emma McAlary)
Now, the bed has a finished, and calm, vibe. Amazing what a little blue can do!
What little project could totally transform your bedroom? Head to Sherwin-Williams for inspiration!
This post is sponsored by Sherwin-Williams and was created by the Apartment Therapy Creative Studio.
Thank you for supporting the brands that make Apartment Therapy possible.