Placement & Styling Ideas for Antique Trunk?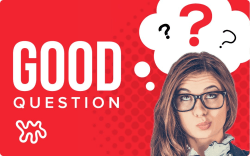 Q: We have had an antique trunk for about 10 years, originally bought for storage, but I really like the aesthetics of it. Problem is, it's really big, and can look quite bulky or like it was just plopped down. We have a few large and empty corners in the living room of our new house, and it would fit well there, but I'm at a loss for how to style it so it doesn't just look thrown in the corner...
The trunk looks almost exactly like this one, and has a slightly curved top—making it difficult to use as a coffee table or side table, which would probably be my first instinct—but it is flat enough for pillows, maybe leaning pictures/photos, etc. Any ideas appreciated! -Sent by Michelle
Editor: I was certain that a cursory glance through our House Tour archives would yield a wealth of antique trunk inspiration, but all of the ones I've found so far are of the flat-top, used-as-table variety. Readers, what should Michelle do with this treasure?
• Have a question for our community? Send us yours with a photo or two attached (questions with photos get answered first).