One Last Thing You Need to Do Before You Officially Kick Off the Holidays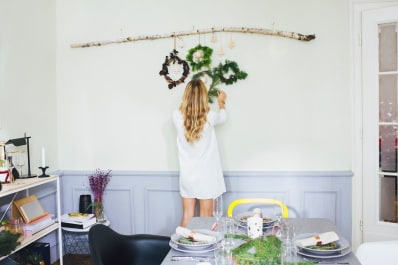 (Image credit: Lumina/Stocksy)
For 10 days at the end of October, Apartment Therapy wants to help you get ahead on the holidays. Together, we're checking off doable daily tasks to get one step closer to the effortless holiday season you deserve. Sign up now (it's free!) so you don't miss a thing.
This is it! The final day of our Holiday Jumpstart program. If you've been following along, making your lists and checking them twice, I hope you feel a little more prepared to tackle the next few weeks. Life before the holidays can get really busy.
For our final assignment of this jumpstart, we're going to make some room on the calendar for the best parts of the season—to make sure that the magic and the memories don't fall by the wayside while we hustle.
(Image credit: James Ross/Stocksy)
DAY 10:
Make room for an old tradition, or plan to start a new one.
This should be fun—if you want to turn up Mariah Carey and make some hot cocoa, that's alright with me!
Think about the traditions you love every year. (Write them down if you need to.) Then find a way to cement them into your life in the coming weeks. That might mean blocking off a day on the calendar, or talking to friends and sending a Facebook invite for a party. What's important is that you prioritize time for these value-rich moments just like you would those other things that life and work demand of you. We're making time for ourselves and our loved ones today.
And if you want to start new traditions, now is a great time to do it! Pick a day to go Christmas tree shopping together, or bake cookies, or drive to look at lights, or host a white elephant party, or a holiday movie night, or volunteer at a food bank.
Today is your day to make space for the things you love about the holiday season—whatever that means to you.
Happy holidays!
---
How to keep up with Holiday Jumpstart: