A Renter's Life in Boston: The Inside Scoop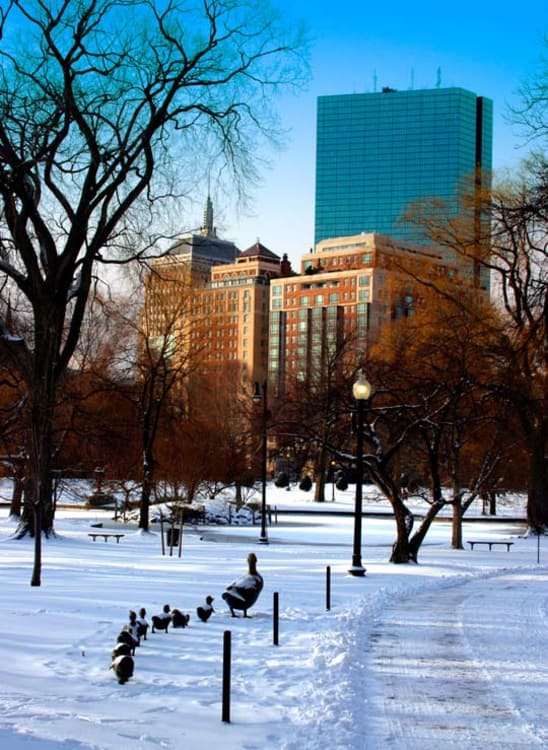 Despite its chilly winters and occasionally frosty residents, I love Boston. Having moved here for school over a decade ago, I've picked up a few tips and tricks along the way. Here is one Bostonian's insider scoop on living and renting in the Hub.
Neighborhoods
Back Bay, South End, Beacon Hill, North End: Established Chic
You'll pay more to live here, but it's where the most amenities are. It's (probably) close to work, not to mention the city's major shopping, entertainment, and dining destinations, with easy access to nearly all modes of public transit. You'll save on late night cabs because most everything is within walking distance, but the tradeoff is the higher concentration of tourists.


Types of rentals: Traditional rowhouses, luxury buildings, lofts (South End & North End), smaller walk-ups (especially North End & Beacon Hill).
Known for: Shopping, parks, convenience (Back Bay); Dining, style, art (South End); History, tradition, politics (Beacon Hill); History, Italian Americans, food (North End).
Don't miss:
Though Newbury Street boasts designer labels and major retailers, local boutiques like
Crush
and
Ball and Buck
prove Bostonians have style (Back Bay). Summertime Sundays call for browsing
SoWa Open Market
, showcasing local artisans, craftspeople, farmers, and food trucks (South End). Taste the gourmet confections at
Beacon Hill Chocolates
, and then hike the pretty cobblestone streets (Beacon Hill). Shop European-style — visit the
24-hour bakery
, dry goods shop, produce stand, perhaps the gelateria, then picnic in the
park
(North End).
Transit: Red, Orange, Green, Silver lines & bus routes; commuter rail; biking; walking. Parking: difficult and/or expensive.
Kendall, Central, Harvard, Inman: Cambridge Squared
Cantabrigians are scholars. Even the neighborhoods are arranged around squares. Some of the nations' best institutes of higher learning are on this side of the river, plus a majority of Greater Boston's booming tech sector. But Cambridge isn't all work and no play. Craft brews, great coffee, and local love make it a cool place to call home.


Types of rentals: Small- to mid-size apartment buildings, luxury buildings, triple-deckers, duplexes.
Known for: Tech, MIT, new restaurants (Kendall); diversity, local music, vintage (Central); red brick, books & stationery, street performers (Harvard); locals, bikes, coffee (Inman).
Don't miss:
Area Four
, a bakery, coffee shop, restaurant, and bar that manages to be everything to everyone (Kendall). Alternating Nerd Nites and new wave DJs,
Middlesex Lounge
isn't judgy, just cool (Central). Get some culture served straight, or with a twist by the
American Repertory Theatre
, running such classics as The Glass Menagerie and disco party sensation The Donkey Show (Harvard). Whether you visit the spice shop or the ice cream parlor next door, popping into
Christina's
is always rewarding (Inman).
Transit: Red line; bus routes (1, 66, 69); biking; walking. Parking: lots and meters near main streets; mostly strict resident parking elsewhere.
Jamaica Plain & Somerville: Boston's Brooklyns
Though these 'hoods may be on opposite sides of the river, both have Brooklyn-esque tendencies. They're full of creative types, cyclists, and CSA members, and residents of each like to stay local and support neighborhood businesses. Though they do have their differences: parks, small-batch food and young families make JP and neighboring Roslindale more like Park Slope, whereas Somerville is home to cool innovators, artisanal letterpress, and craft beer that give it Williamsburg style.


Types of rentals: Triple-deckers, small- to mid-size apartment buildings.
Known for: Community, artists, Painted Ladies (Jamaica Plain); Trendy, coffee, makers (Somerville).
Don't miss:
On a September weekend, all the neighborhood artists set up shop for
JP Open Studios
(Jamaica Plain). From bike maintenance to business development,
Artisan's Asylum
offers classes for crafters of all types (Somerville).
Transit: Orange line, green line, bus routes (Jamaica Plain). Red line, bus routes (Somerville). Parking: generally easy and unregulated, certain streets resident only (Jamaica Plain); varies by area, mostly similar to Cambridge (Somerville).
South Boston & East Boston: Locals on the Waterfront
Southie and Eastie are traditionally no-frills, working-class neighborhoods. Though the outsiders are moving in and the streets are safer, there's bit of old Boston grit and gristle left. Southie has seen neighboring Fort Point become Boston Proper's Innovation District, with luxury condos springing up all along the west side, resulting in rents not as cheap as they used to be. It seems deals can still be had in East Boston. If you love the water, these are the places to be.


Types of rentals: Triple-deckers, rowhouses, small- to mid-size apartment buildings, luxury buildings (South Boston)
Known for: Irish Americans, politics, the beach (South Boston); locals, working class, growth (East Boston).
Don't miss:
Call it cliché or deep-rooted tradition, you haven't seen Boston until you've been to the
St. Patrick's Day Parade
(South Boston). A contender for Beantown's best slice,
Santarpio's
dishes out pizza with a side of sass (East Boston). Also, check out the area's only Australian fare at
KO Catering & Pies
(South & East Boston)
Transit: Red line, silver line, bus routes (South Boston); Blue line, bus routes, ferries (East Boston).
Brookline & Brighton: Green Space on the Green Line
Brookline and Brighton are bustling with fantastic local businesses in their squares, but quieter streets in between are where families, grad students, medical professionals, and more call home. Hills, trees, parks, the Chestnut Hill Reservoir, and the Charles River make this a great area to be outdoorsy.


Types of rentals: Triple-deckers, rowhouses, small- to mid-size apartment buildings, luxury buildings, houses.

Known for: Parks, public schools, Jewish culture (Brookline); students, down-to-earth, pubs (Brighton).
Transit: Green lines B, C, and D, bus routes; Parking: Overnight street parking ban (Brookline); some areas have resident only street parking (Brighton).
Resources
Apartment hunting: Craigslist is still king, though searching the weekly neighborhood newspapers for old-school landlord listings can't hurt. Many real estate agents are neighborhood-specific, so try to connect with one near your preferred place.
Getting around:
The
MBTA
gets you most everywhere you need to go (between the hours of 5 am and 12:30 am), though getting between outlying neighborhoods (like Brighton to Jamaica Plain) requires going inbound to go outbound, or taking buses Boston has been installing bike lanes along major roadways for the past few years, though sharing the road can still be tough with potholes and aggressive drivers.
Hubway
is a bike sharing membership with stations all over the city.
Zipcars
are also easily accessible and available throughout. Cabs aren't cheap compared to other cities, but
Hailo
and
Uber
are at least making them more accessible, and most taxis take credit cards now.
Stuff to do:
Boston's weekly mag,
The Phoenix
, lists the majority of shows, exhibits, and events going on around town. For something a bit more curated,
Shoestring Magazine
puts out a weekly Save Your Weekends roundup of budget-friendly fun stuff (full disclosure: I'm an editor at Shoestring).
Bostonians, share your tips in the comments!
MORE BOSTON RESOURCES ON APARTMENT THERAPY:
• What Does It Really Cost to Live in Boston?
• A Design Lover's Guide to Boston
• The Best of Boston: City Guide
(Images: 1. Shutterstock, 2. Shutterstock, 3. Shutterstock, 4. Tara Bellucci, 5. Boston Harborwalk, 6. Wikimedia Commons)
Re-edited from a post orignally published 3.12.13 - JL
Apartment Therapy supports our readers with carefully chosen product recommendations to improve life at home. You support us through our independently chosen links, many of which earn us a commission.