Already a Trendsetter: We Asked an Expert About the Royal Baby's Name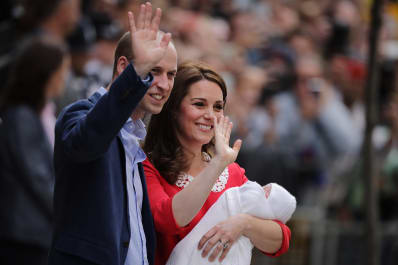 (Image credit: Dan Kitwood / Getty Images)
Four days after his birth, Kensington Palace announced the name of the newest addition to the British royal family. The Duke and Duchess of Cambridge have surprised everyone and chosen a French name for the infant, Prince Louis Arthur Charles. We asked a baby name expert what the royal moniker means for its future popularity.
The Duke and Duchess of Cambridge are delighted to announce that they have named their son Louis Arthur Charles.

The baby will be known as His Royal Highness Prince Louis of Cambridge. pic.twitter.com/4DUwsLv5JQ

— Kensington Palace (@KensingtonRoyal) April 27, 2018
Louis is a French name of German origin, meaning "famous in battle," and is generally more associated with French royalty than British; there have been 17 kings of France named Louis.
Louis (pronounced lou-ee) is likely a tribute to William's grandfather, Prince Philip, whose grandfather was Louis Alexander Mountbatten, according to PEOPLE. Prince Charles was close with his great uncle, Louis Mountbatten, 1st Earl Mountbatten of Burma, who was assassinated in 1979 by the IRA. It is also one of Prince George's middle names.
Though the name Louis is currently the 71st most popular boy's name in England ranking at 289, in the US, it's likely the name will see a royal boost, like the names of his older siblings before him.
"Charlotte moved into the US Top 10 the year after Princess Charlotte was named, and George moved up 25 places in the US thanks to its choice for Prince George," Pamela Redmond Satran, creator of Nameberry, told Apartment Therapy in an email.
And French names could be on the rise in general, she adds, though girls more so than boys:
In recent years, [Louis has] been among the Top 10 [in France], and Louise is very popular too. Ironically enough, Charlotte is one of the most popular French names in the US. The influence of Charlotte and Louis together will push French names further into the spotlight. Chloe is another popular French name, and we're also seeing Beau, Bellamy, Belle, Blaise, Claire, Elodie, Eloise, Esme, Gabrielle, Juliette, Margo, Madeleine, Natalie, Paris, Remi/Remy, Sidney/Sydney, and Vivienne — mostly girls' names.
Could the French trend in names spill over into design? Well, there are several famed chair styles named after Gallic kings named Louis. But outside of that, modern French style is generally considered a chic blend of traditional, modern, and glam, which is definitely a winning combination. If you want to get the look, check out 6 Secrets of French Style or 8 Rooms That Have Mastered Effortless "French Girl" Style.