Win: Samsung SmartThings Smart Home Package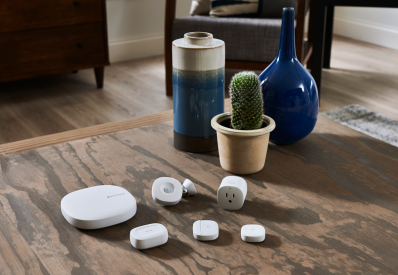 (Image credit: Samsung)
Prize: Samsung SmartThings Hub, Sensors, Outlet and Button
Total Value: $199
From: Samsung
The good thing about our homes getting smarter is that almost everything we use—security system, doorbell, thermostat, lighting—is one step closer to The Jetsons world we all imagined. The unexpected twist, though, is that all these systems became a lot to manage. We never knew we'd need a system for our systems, but here we are. Samsung SmartThings unifies all these smart amenities into one single flow, making everyday life easier and more enjoyable.
The brain of your (smarter) home is the SmartThings Hub, a slim device that connects wirelessly with hundreds of smart products—from Amazon Alexa to Yale security solutions—and gets them all working together. Control everything from the easy-to-use SmartThings app.
SmartThings MultiPurporse Sensors keep tabs on your home, alerting you when doors and windows are opened and automating connected devices. When you use the SmartThings Outlets, which plug right into your existing outlets, you can control lights, electronics, and small appliances from anywhere. And the small and sleek SmartThings Button helps you to control all your connected lights, electronics, and small appliances at the touch of a button.
Whether you're a smart-home pro or just getting started, it's easy to upgrade your home to genius status. And now Samsung is setting up one lucky AT reader with a SmartThings package! That's 1 SmartThings Hub, 1 SmartThings MultiPurpose Sensor,1 SmartThings Motion Sensor, 1 SmartThings Water Leak Sensor, 1 SmartThings Button, and 1 SmartThings Outlet. Enter below for your chance to win.
How to Enter
Enter to win a SmartThings home package by filling out the form below. No purchase is necessary to enter. The contest begins at 10:15 a.m. EST on November 15th and ends at 11:59 p.m. EST on November 21st. One winner will be chosen at random. Comments are great, but you must use the official form below to enter. Good luck!
This post is sponsored by SmartThings and was created by the Apartment Therapy Creative Studio. Thank you for supporting the brands that make Apartment Therapy possible.
Comments have been disabled.