Chip & Joanna Gaines Just Shared a Sneak Peek At Their Target Holiday Line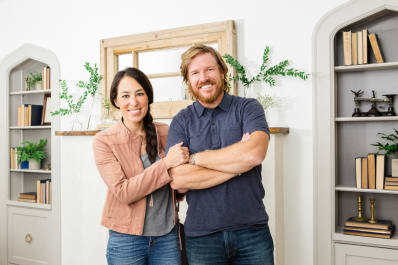 (Image credit: Courtesy of HGTV)
One of the saddest goodbyes we had in 2018 was when "Fixer Upper" ended. It was tough saying goodbye to Chip and Joanna Gaines flipping houses in Waco, Texas. But thankfully, Chip and Jo aren't far. While they took the time to focus on their family, including new baby Crew, they've also been focusing on new projects, like their Hearth & Hand line at Target. If you've loved everything so far in the collection, you're going to flip over the new additions.
The Hearth & Hand line is available to shop at Target. Shoppers can, "Celebrate the every day with Hearth & Hand™ – created exclusively for Target in collaboration with Magnolia, a home & lifestyle brand by Chip & Joanna Gaines." Just this week, Joanna shared a few sneak peek looks at what's coming in the collection on her Instagram. She shared it via her stories, so if you missed it, don't freak out. Target has also shared a short video of the sneak peek looks at what's to come.
Hearth & Hand has home decor, kitchen & dining, home office, bath, gifts, and wallpaper, paint & hardware. Previously, they released 50 new items for the kitchen and the bathroom that ranged in price from $3.99 and $55.99. Hopefully, that means everything in the holiday collection is affordable as well. Now, we're going to be treated to a whole slew of holiday decor and gifts it looks like. Just check out the adorable rocking horse in the video below!
Among one of the items coming to their collection is a faux fiddle-leaf fig tree. Maybe you've nabbed one whenever they go on sale at Costco? Well, now you can get one at Target and you're not going to need to worry about watering it.
Check out the sneak peek at Chip and Joanna Gaines's Hearth & Hand holiday collection at Target in the video below: