Standing Seats Might Be the Future of Airplanes and We're Officially Walking Everywhere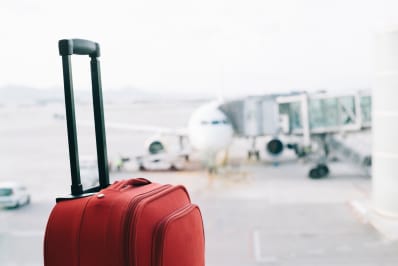 (Image credit: Westend61/Getty Images)
If you thought you didn't have much legroom before, then get ready for a really frustrating flight. Or maybe you might prefer to stand instead of squishing your legs into a seat? One airline manufacturer is suggesting standing seats as the future of flying. Are we being herded like cattle?
Yup, you read that right, standing seats. You can't even complain about the little minuscule amount of legroom, because there isn't any legroom, to begin with.
Airplane manufacturer Aviointeriors is an Italian company that designs airline seats. They've designed a new seat that allows you to stretch your legs, but the catch is you can't actually sit down.
The seat is called the Skyrider 2.0 and was debuted at Aircraft Interiors Expo in Hamburg, Germany, as a seat that "allows an ultra-high density in the aircraft."
The design might seem unfeasible to passengers, but airlines might like it because they can increase the number of passengers onboard by about 20%.
"Skyrider 2.0 opens the travelling experience to a wider passenger market, creating also use a useful space for the introduction [of] mixed classes boarded on the same aircraft.
"Its main feature is the original bottom that ensures an increased upright passenger position allowing installation of the seat at a reduced pitch, while maintaining an adequate comfort."
Sounds great for airlines that are trying to make an extra dollar, but who would actually ride in something like this? I get needing to stand up on your flight to stretch, but sitting back down is essential in actually feeling comfortable.
Oh my god we have officially become cattle. //t.co/IThZlSbWsE

— Adam Singer (@AdamSinger) April 20, 2018
Would you ever fly in a seat like this?
If you refuse to fly in such cramped style and have the money to burn, there is an airline that has cabins that are so luxurious, they're almost like spending time in a fancy hotel.