Do You Have Strong Feelings about Bathroom Decor?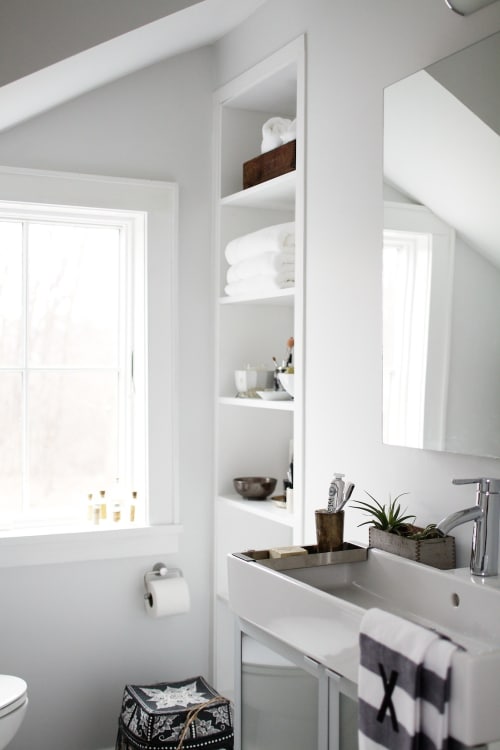 A friend came over for dinner last night, and in the course of our conversation she admitted, "I have strong feelings about bathrooms." From the response to some of our past posts, I'm guessing that she's not alone. Weigh in below on some of the bathroom decor choices that seem to have the ability to get your goat.
Art placement: When my friend mentioned her "strong feelings," it was in reference to the placement of art in the bathroom. Some people feel that art is best over the toilet, while others think it's best opposite the toilet. As a compromise, my friend and her male roommate have art in both places, and they periodically switch them out so each person gets a different visual treat.
Art in general: For some people, the question is not where art should go but rather whether it should go in the bathroom at all. It's true that humidity can damage artwork, but a room without artwork can sometimes feel cold or sterile. Some people suggest that by framing artwork properly and using a ventilator, you don't have to worry as much, while others suggest relying on reproductions or inexpensive artwork.
Color and light: We've asked before whether certain colors make bathrooms feel cleaner, and while many people seem to favor white bathrooms, others claimed that having an all-white bathroom actually highlights dirt when it's present. While readers seem pretty divided about paint colors and grout colors, most people seem to agree that black toilets or sinks are a bad idea.
Guest items: It could be argued that part of being a good host is having items at the ready for your guests so they can have a pleasant stay, and it's a pretty common practice to stock extra products for a guest bathroom. But unless you're swimming in storage options, it could also be argued that this is not the most judicious way to allocate space. How often do you really have drop-in-overnight guests? And how often do your expected guests visit without their own supply of toiletries? Personally, I keep a few spare toothbrushes around, but my visitors never seem to need much else.
Bath mat: To mat or not to mat? It seems to be a controversial question. Some people don't like the traditional plush mats because they can stay damp for a long time, get dirty quickly, and require frequent washing. Others can't envision life without them, lamenting wet floors and cold tiles. Wood mats, cork mats, and other non-cloth alternatives may seem like a good compromise, but these elicit strong opinions as well. Then the question arises: how often do you replace it? Abby's suggestion of every two years met some resistance.
Toilet paper, wipes, bidets, and reusable wipes: A hot post a while back asked why people aren't using recycled toilet paper, and the question elicited quite the response. A subsequent survey revealed that readers still tend toward traditional TP or the recycled type, but there are some of you who use reusable cloth wipes, bidets, disposable wet wipes, or other methods. Regardless of the response, though, it was clear that people felt strongly about their method of choice. And even where the response has been unanimously in favor of the traditional material, there's the perpetual disagreement about how to hang the TP correctly.
What other parts of the bathroom do you have strong feelings about?
-Re-edited from a post originally published 4/8/13 - DF