Before & After: The Paint Project That Adds Depth to Your Kitchen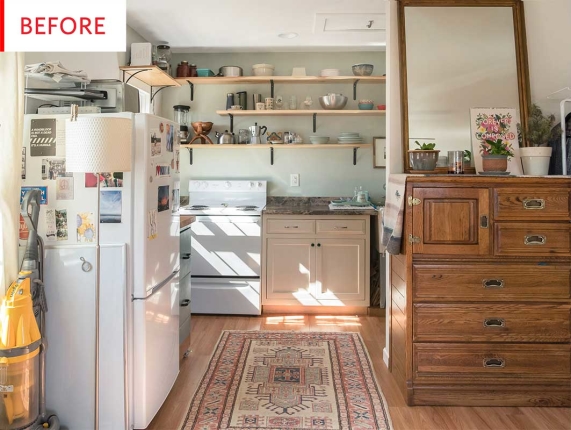 (Image credit: Emma McAlary)
When space is at a premium—like in Shaina and Michael's tiny house, which comes in at just under 400 square feet—every little detail counts. But no matter the size of your space, no detail counts more than color: bright, moody, neutral or anything in between, the right paint can work wonders.
That's exactly what this creative couple learned when they used two paint projects with Sherwin-Williams paints to make a big difference in their tiny kitchen.
(Image credit: Emma McAlary | Apartment Therapy)
TIP: Don't try to cut corners by painting around shelving and other fixtures. Yes, taking everything down adds time, but it makes for a cleaner, ultimately easier job.
The received wisdom is that dark colors shrink spaces, but don't believe everything you hear: this accent wall in moody gray (Mount Etna SW 7625) adds depth, actually making the space seem larger. It also makes the items on display pop, those items formerly known as "service and prep ware" (while camouflaging the shelf brackets).
(Image credit: Emma McAlary | Apartment Therapy)
TIP: Open shelving is all about the #edit. When you're storing for show, stick to what you really need and what looks best, like colorful tiles and earthy ceramics.
(Image credit: Emma McAlary | Apartment Therapy)
The next step of this spatial magic trick? Brighter cabinets. A sharp white (Extra White SW 7006) helps the cabinets reflect light and contrast the darker wall above.
TIP: Real talk: Painting cabinets is totally worth it, but know going in that it's a time-consuming job—especially if you've got a full-size kitchen. It's not cheating to call a pro and get a quote.
(Image credit: Emma McAlary | Apartment Therapy)
Now, Shaina and Michael's kitchen is a tailored, defined space distinct from the rest of the home. Takeaway: add color, get polish!
What little project could totally transform your kitchen? Head to Sherwin-Williams for inspiration!
This post is sponsored by Sherwin-Williams and was created by the Apartment Therapy Creative Studio.
Thank you for supporting the brands that make Apartment Therapy possible.