One City Plans To Combat Affordable Housing With 'Micro-Estates'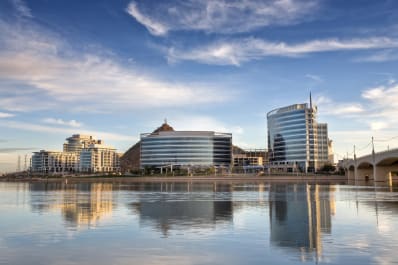 (Image credit: JeffreyRasmussen/Shutterstock)
In order to combat its growing affordable housing issue the city of Tempe, Arizona is slated to break ground on a community of relatively low-priced tiny homes on city-owned land next spring. The desert city just outside Phoenix has seen an average rent increase of $200 per month since 2015.
The community of 12 "micro-estates," as the developers are calling them, will sit on approximately an acre of land with each home coming in at 600 square feet. The houses will feature one bedroom, one bathroom, a living area, a fully-equipped kitchen, a storage space, and a patio. They're expected to cost around $130,000, though the developer is aiming to bring the costs down closer to the $100,000 price point. Home owners will also have access to a community garden, as well as a separate 900 square foot communal building, which will hold laundry facilities.
When it comes to layout, these micro-estates will be two-stories; aesthetically, the plan is to style them after the popular bungalows of the 1920s and 1930s.
While tiny homes have no doubt been all the rage, these particular homes are larger than the typical 300 square foot tiny house for one key reason: financing. At 600 square feet, Tempe-area home buyers have the potential to secure a mortgage and federal assistance to assist with their home purchase.
Tempe is not alone in its affordable housing crisis. The epidemic is quickly spreading nationwide. In Los Angeles, for example, the average rent in the city at the end of 2017 jumped more than 4.3% from the prior year, according to the apartment market report by RentCafe. Then there's San Francisco, the #1 most expensive rental market in the country, according to NBC Bay Area, where the average rent of for a San Francisco one-bedroom is $3,390. Overall, a Apartment List's 2018 National Rent Report notes that rents are up month-over-month in 81 of the country's 100 largest cities. The country's affordable housing problem is motivating city leaders, such as those in Tempe, as well as startups to act and innovate. In fact, one startup has even started 3D printing homes, debuting a 650 square foot 3D-printed home costing $4,000 at this year's SXSW.
h/t AZ Central