Could This Be the First DIY Fail of the Trading Spaces Reboot?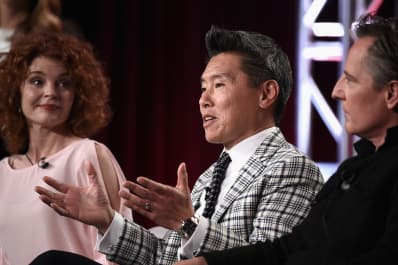 (Image credit: Amanda Edwards/Stringer/Getty Images)
The fun of Trading Spaces, when compared to all other home shows that came after it, is that it sometimes goes wrong—really wrong. While Twitter wasn't exactly feeling the room designs of the reboot's debut episode, we haven't yet seen an actual fail. This week, we just might get it.
In a preview clip from Saturday's episode, Vern (who else is excited for a Vern room??) and his homeowner have a ball—literally. The designer grabs a pair of stability balls as a way to DIY light fixtures.
Vern walks the homeowner through the process, which uses cotton yarn drenched in fabric stiffener that is then wrapped around the ball to create a layered woven effect. The yarn will harden as it dries, after which the ball can be extracted and poof, you have statement lighting for cheap.
It's a smart idea—the stability balls look to be about three to four feet in diameter, and buying a pair of light fixtures that big is prohibitive on a $2,000 budget. It's a take on a classic DIY we've seen for years, which most often uses balloons as the base.
And while it seems simple, it does take a certain level of precision to do it correctly. In the clip, we see as Vern quickly and evenly wraps his ball with yarn, his homeowner is having less successful results. Her yarn is not staying in place, and it's on its way to Pinterest fail levels.
We don't get to see how it turns out until Saturday (here's hoping Paige doesn't have to manage a reveal that isn't going well), but we have our fingers crossed she gets it together—or Vern steps in to help.
Have you ever attempted a DIY project that seemed simple but wasn't in actuality?