Before and After: This Kitchen Is Now the Opposite of Dark and Dreary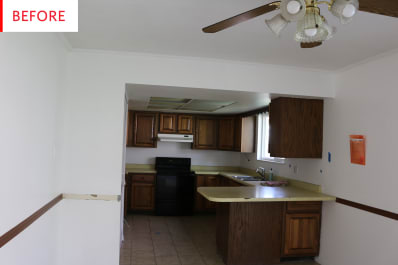 (Image credit: Rebecca Woolston)
For its 40th birthday, this home received the ultimate gift: a completely new kitchen. With the renovation supervised by a toddler, this overhaul was completed in just a month and a half.
Here's a little backstory about the process:
We bought this house six weeks before giving birth to our baby. We had really hoped to find a house before he was due and after searching for literally a year, we found this one. We walked through it and were amazed to find a house in our price range and region that had a master en suite bathroom and a large space for a kitchen. But I couldn't get over the entryway so we left and didn't think much about it. But then a couple days later, we had a life planning meeting and realized this house could be the right fit for us. It had the space we wanted and it was just decent enough that we could live in it until we could complete a remodel.
My angel mother came and scrubbed every surface of the kitchen the day before we moved in while my husband was working and I was far too pregnant to get on a step stool. I love having people over and I didn't want our kitchen to stop me. So we still had plenty of gatherings but it was always tight and uncomfortable because there was a 20-foot wall separating the dining space and the living space.
We hoped to start the remodel as soon as our baby arrived, but we quickly learned that new parenthood and new homeownership filled our capacities at that time. Once our son got a little older and we could save more money, we took the leap. Our house was built in 1978 and a 2018 remodel seemed like a fun way to celebrate its 40th anniversary.
And what a change it is: The old kitchen was closed-off and dreary, and though the peninsula could have served as a breakfast bar, it was a bit awkward and not nearly as inviting as this one. The original cabinets blocked off most of the light coming in the window, both because of their position and their dark finish. Now the light is able to bounce about and even flow into the adjoining dining room, thanks to the removal of that wall.
The ultra-minimal black-and-white palette and clean lines that Rachel Woolston chose mean that the lovely floor is allowed to shine, with the gleaming stainless steel appliances acting as jewelry-like accents. White kitchens are a blank canvas for creativity—especially when there are black and wood elements.
(Image credit: Rebecca Woolston)
Rachel shares what finally got the renovation started:
The housing market in Salt Lake City is very competitive right now. We searched for a long time and knew that we would rather have a low mortgage and be able to improve the house in our style. I'm a designer and my husband is an engineer. Our hobbies are both very hands-on and we knew that we would both greatly enjoy the challenge and opportunity to DIY our home. When we looked for houses, we kept in mind its potential for flipping. The old kitchen floor was tile and it was laid rather poorly. The entry to the kitchen had one broken tile that kept popping up when you would put weight on it. In April of this year, I stepped on it and tripped and got so mad. I said, "That is it. I cannot live with this tile for one more day!" Ha! So we double-checked our savings, spent a few weeks planning and then we thoroughly enjoyed demo of that tile floor.
That floor is even more attractive up close. It has the perfect golden glow of a toasted marshmallow, warm without having a hint of orange or yellow. I enjoy the way the subway tile backsplash disappears against the rest of the kitchen, providing subtle texture and practicality.
The laminate flooring is TrafficMASTER from Home Depot, the cabinetry is IKEA's VEDDINGE, the cabinet hardware is IKEA's HACKAS, the fridge is LG, the stove and microwave are GE, and the microwave is Whirlpool.
(Image credit: Rebecca Woolston)
This "Before" photo isn't going to correspond exactly with an "After," but I wanted you to get a feel for the pea-soup countertops and the slatted pantry. Between the paneled cabinet doors, the drop ceiling, and those slats, there are a lot of lines happening here.
It took a surprisingly short amount of time to transform this space, especially considering there was a toddler involved. In fact, his presence actually helped speed things along:
The process was quite short compared to many kitchen remodels. First off, I work from home now as a freelance designer and developer, which meant I was able to cut back on work in order to project manage the remodel. Secondly, we lived in the space during the entirety of the project. When you're eating frozen foods in the microwave and spending the day with a small toddler in your unfinished basement, it's relatively simple to muster the motivation. We started demo mid-April and reached our goal to be back in the kitchen by June 30. It was very fast-paced. Especially with a toddler. He is the true MVP of this project. He slept through everything in the next room over. Every power tool you can imagine, hammering right outside his door, several vendors bringing estimates, and still he slept like the best little baby.
Our budget was $30K and we spent just around $24K. At the end when we realized we had extra budget, we replaced our front door and hired out the welding of our railing.
At the beginning, my husband was planning to do it all himself. And while he has the skills that he could have done it all, it just didn't make sense with the timeline. We hired out a structural engineer to sign off that our wall was not load bearing.
We hired out all the electrical work, which was rather intensive: completely rewired the kitchen; brought everything up to code; and replaced our panel, our meter box, outdoor lighting, and every light fixture in the space.
We also hired out drywall for a few reasons. We have an orange peel texture on the walls and have removed some crown molding and chair rails.
We knew a professional could make those fixes much better and have a more consistent texture than what we could produce on our own.
"Extra budget" is not a term we hear, like, ever in the renovation world, so congrats to Rebecca on coming in under budget—and then using the extra available funds effectively.
The new dining room pairs perfectly with the kitchen and is the perfect distance from the kitchen. Between it and the breakfast bar, there are plenty of spots for guests to chat nearby without actually being in the kitchen (i.e., in the way). I especially like the way the rungs of the dining chairs echo the long thin drawer handles.
The chandelier is by Willa Arlo Interiors from Wayfair (currently on sale!), the expandable table is from West Elm, the chairs are from Target (currently only available in mint)
If you're facing a renovation, please heed Rebecca's advice, which could save you headaches and a major amount of money:
My number one advice is to not live in a house undergoing a remodel when you're also the one doing the work, especially if you have a toddler in the home. It can't always be avoided, but if it can, try to eliminate one of those variables. But more importantly, get several estimates. For every vendor we had I had three, sometimes four estimates. It took so much time. But I could not believe just how substantially different the costs were. For electrical, I had one bid at $4K and one at $12K for the exact same work. And I wouldn't always recommend going with the very lowest bid, but it's also very important to see your options of personalities, company size, and portfolio. I counted it up at the end, and I met with 25 different vendors to ensure I was getting the best service for the best price. And it certainly paid off!
Thank you, Rachel Woolston!
Apartment Therapy supports our readers with carefully chosen product recommendations to improve life at home. You support us through our independently chosen links, many of which earn us a commission.