Win One, Give One: Eco-Friendly Mattresses from Saatva and Loom & Leaf!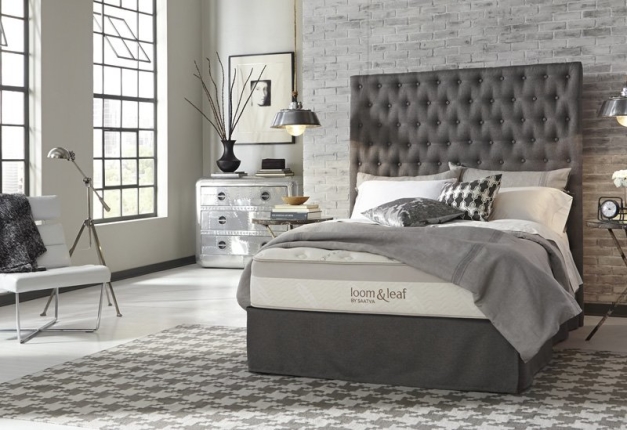 Prize: (1) Saatva mattress set and (1) Loom & Leaf memory foam mattress set (any size) including foundation and frame.
Value: $3250
From: Saatva and Loom & Leaf
Finally! Holiday season is in full swing and with it, all the requisite goodness. I'm looking forward to snowy nights, snacking on warm cookies (straight out of the oven) and being surrounded by the people I love. Seriously! Not to sound all mushy, but for me, this time of year is the perfect time to remind my nearest and dearest that I cherish 'em — and getting gifts isn't so bad, either. That's where Saatva and Loom & Leaf come in.
Enter to Win Two Luxury Mattress Sets!

These eco-friendly mattresses are absolute game changers. Saatva mattresses are your classic, luxury innerspring mattresses. They've got your lumbar support, a pillowy cotton cover you could basically melt into, and individually wrapped coils for your ultimate comfort.
Loom & Leaf, on the other hand, offers a premium memory foam mattress that's non-toxic and hypoallergenic. Think Tempur-Pedic, but half the price, thanks to their exclusive online model. This is a company that does all the legwork, designing and delivering mattresses throughout the United States and Canada with both the environment and the consumer in mind.
Now, Saatva and Loom & Leaf are getting into the holiday spirit by giving you a chance to win one mattress set – and also give one mattress set. So you can indulge, and a loved one can too: it's a gift they'll never forget, and not only because they'll be dreaming on it every night. Enter now!
How to Enter:
To enter to win one Saatva mattress set and one Loom & Leaf memory foam mattress set (any sizes, including foundation and frame), fill out the form below. The giveaway begins December 15, 2015 at 10:15 am ET and ends December 29, 2015 at 12:00 ET. One winner will be chosen at random. Check out the official rules here.
Start sleeping on one of Saatva and Loom & Leaf's luxe mattress sets!