Before & After: Yes, Even This Room Deserves a Little Color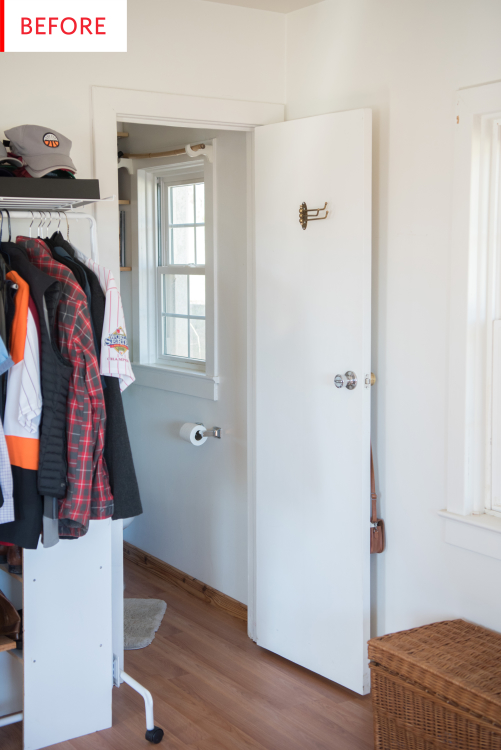 (Image credit: Emma McAlary | Apartment Therapy))
If style is personality—and we think it is—then the least interesting room in a house is often the bathroom. It's so utilitarian. The tiles are what they are. Plumbing fixtures aren't particularly inspiring. But actually, the bathroom is a great place to have a little fun with color!
That's exactly what Shaina and Michael did. With a tiny home measuring just under 400 square feet, the whole house has only one interior door: the bathroom's. It's the perfect little space to get playful, a small and enclosed room where a little extra color can yield a whole lot of cheer.
(Image credit: Emma McAlary | Apartment Therapy))
Since the bathroom is the only private room in their house, Shaina and Michael decided to be a little looser with it when thinking about how color could help bring it to life.
(Image credit: Emma McAlary | Apartment Therapy)
They decided to highlight the bathroom door with a perky yellow (Fun Yellow SW 6908). It's where we start our days—why not start with a little sunshine?
TIP: If you don't want to paint the whole door, just paint the inside or outside edge for the tiniest hint of accent—you'll only see it when the door is open, and it will be a happy little surprise when you do.
(Image credit: Emma McAlary | Apartment Therapy))
Shaina and Michael were excited about giving their door a bright color—they just didn't know which one. After playing around on the Sherwin-Williams ColorSnap® Visualizer Mobile App, though, they knew exactly what they wanted. The app lets homeowners try on virtual colors and see exactly how they'll work in their space before a drop of paint is applied. (Shaina and Michael's verdict: yes to yellow!)
(Image credit: Emma McAlary | Apartment Therapy)
The couple carried the color into the bathroom itself by painting the window trim the same yellow. The choice added pop and color continuity. Now the bathroom is as much fun as the rest of this cheerful home!
What little project could totally transform your bathroom? Head to Sherwin-Williams for inspiration!
This post is sponsored by Sherwin-Williams and was created by the Apartment Therapy Creative Studio.
Thank you for supporting the brands that make Apartment Therapy possible.